This World Rhino Day, we're celebrating the conservation efforts made towards protecting these magnificent animals, as well as a selection of the beautiful places they still call home.
World Rhino Day takes place annually on 22 September and aims to raise awareness about the conservation status of the five species of rhinos across the globe – black, white, greater one-horned, Sumatran and Javan rhinos. By bringing together rhino rehabilitation sanctuaries, NGOs and conservation projects, the dedicated day also promotes fundraising projects and awareness campaigns around poaching for the illegal rhino horn trade, and more.
However, the efforts of these organisations go far beyond one day alone, and it's thanks to proactive measures from wildlife protection groups and conservation-focused lodges that we still have the opportunity to witness rhinos in their natural habitat. One place where these endeavours are a considerable focus is in Africa – home to the white and black rhino species.
About African Rhinos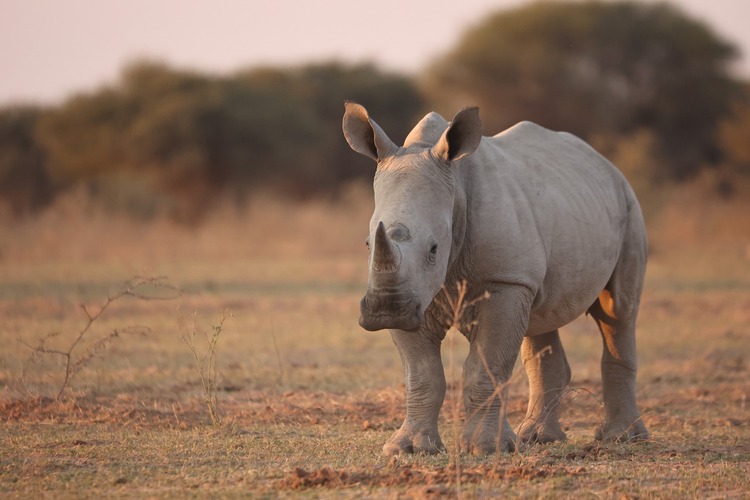 Among the two African rhino species, the black rhino is considered to be even more illusive than the white rhino and holds the conservation status of critically endangered. Although potentially difficult to differentiate them based on size alone, one notable feature distinguishing them is the shape of their lips – while black rhinos possess hooked upper lips, white rhinos are recognized by their square-shaped lips.
Black rhinos are browsers, not grazers, as they primarily feed on leaves from bushes and trees, and so their pointed lips aid in this selective feeding. White rhinos, in contrast, are typically found in grasslands and fields, where their square lips allow them to easily graze on the ground.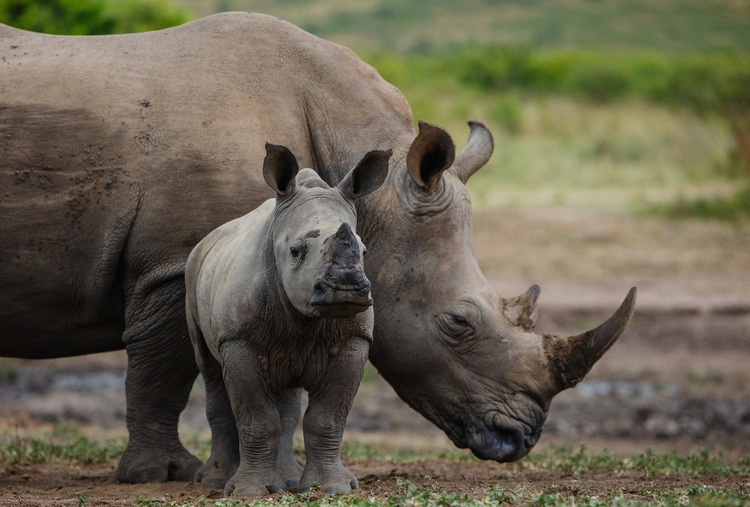 White rhinos tend to be considerably larger than black rhinos, and have long, imposing, barrel-shaped bodies, while black rhinos are shorter, sturdier, and more compact. Adult white rhinos can weigh up to 2,300 kilograms, whereas black rhinos usually stay under 1,000 kilograms. White rhinos also exhibit relatively flat backs with a pronounced bump toward the lower part of their bodies, while black rhinos possess a deep arch in their backs.
In terms of behavior, black rhinos have a reputation for being more aggressive and territorial compared to their white counterparts. White rhinos tend to be calmer and more placid, possibly due to their poorer eyesight, although both species have a potential lifespan of about forty years.
The Importance of Rhino Conservation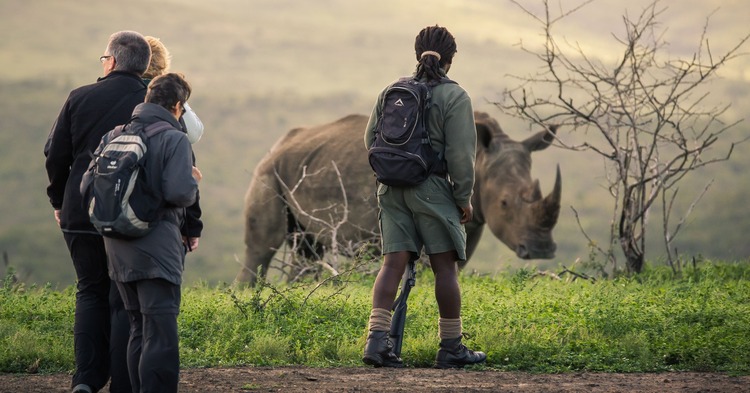 Just 150 years ago, the African savannahs were home to a thriving population of over a million black and white rhinos. However, the relentless hunting by settlers led to a rapid decline in rhino numbers and their geographical distribution. During the 1970s and 1980s, poaching further escalated as the demand for rhino horn, a prized ingredient in traditional Asian medicines, grew – leaving both rhino species threatened by extinction.
Fortunately, due to immense conservation and anti-poaching efforts, as well as an international ban on rhino horn trade, some African rhino populations are now stable or even increasing. However, the majority of the continent's remaining rhinos are concentrated in just four countries: South Africa, Namibia, Zimbabwe, and Kenya. Very few African rhinos now exist outside of protected areas and sanctuaries, and poaching is once again posing a severe threat to certain populations.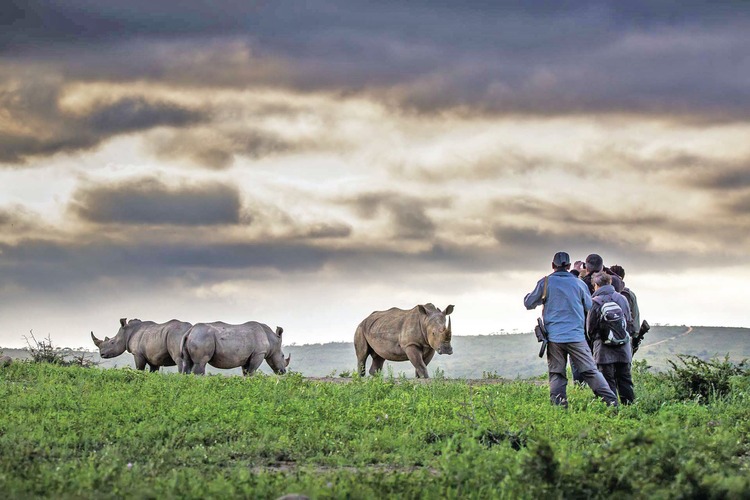 Rhinos have been an integral part of ecosystems for millions of years, playing a crucial role as grazers that consume significant amounts of vegetation. This grazing behavior helps shape the African landscape, benefiting other animals and maintaining a healthy ecological balance. Moreover, local communities rely on the natural resources within rhino habitats for sustenance, fuel, and income. As one of Africa's "Big Five" animals, rhinos are a major attraction for tourists, and ecotourism provides a vital source of income for these communities.
By actively participating in rhino conservation efforts, we not only protect these magnificent creatures but also preserve their habitats for the well-being of both people and wildlife. This support for local communities ensures that natural resources remain available for generations to come.
Rhino Conservation Experience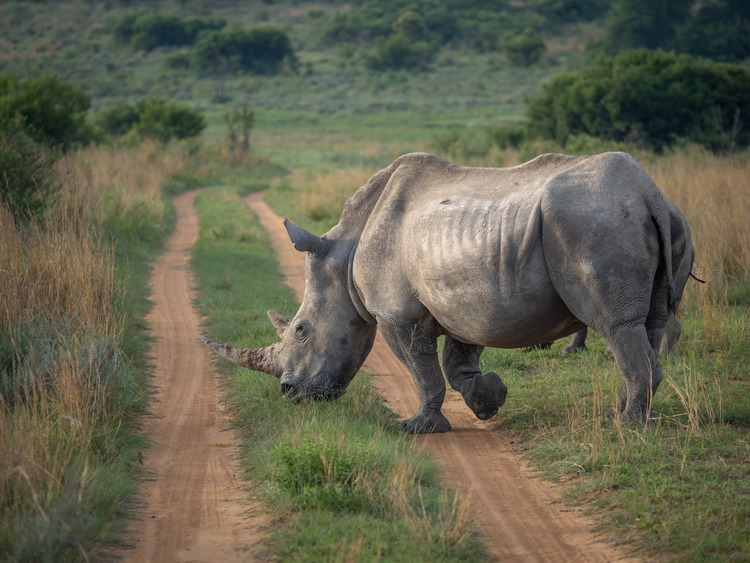 Want to do your bit to save these magnificent creatures? Conservio is offering a three-night (four-day) hands-on Rhino Conservation Experience at the unique, Nambiti Private Game Reserve in Zululand, KwaZulu Natal, where you will be a part of a hands-on conservation and rewilding project.
For two exhilarating days, you will join the wildlife management team in the bush for a rhino conservation management experience as part of their efforts to protect these iconic African animals from the threat of poaching. This totally immersive experience allows for plenty of discourse and educational opportunities to learn more about this critical intervention. You will stay in luxury lodges with a full board offering and a personal host from The Wandering Dog, who will ensure your every need is taken care of.
Rhino Lodges in South Africa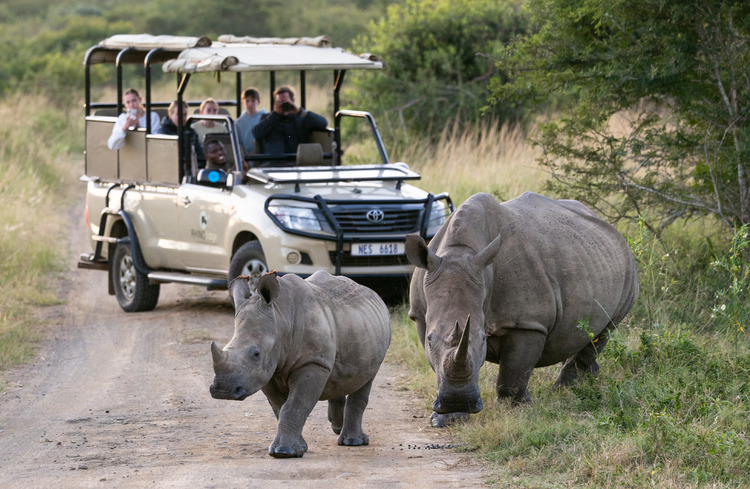 As one of the primary destinations for wildlife conservation, it's no wonder that South Africa is host to a selection of spectacular lodges that offer not only top-tier accommodation, but the incredible opportunity to see black and white rhinos in their natural habitat.
From reserves in the KwaZulu Natal and Eastern Cape provinces to the magical region of The Waterberg near Greater Kruger, a variety of highly qualified rangers and scenic escapes offer a range of authentic, environmentally-conscious activities. From game drives to conservation and walking safaris to fishing expeditions, each escape creates the perfect setting to immerse yourself in the magic of a rhino's habitat – with a side of luxury.
Kwandwe Private Game Reserve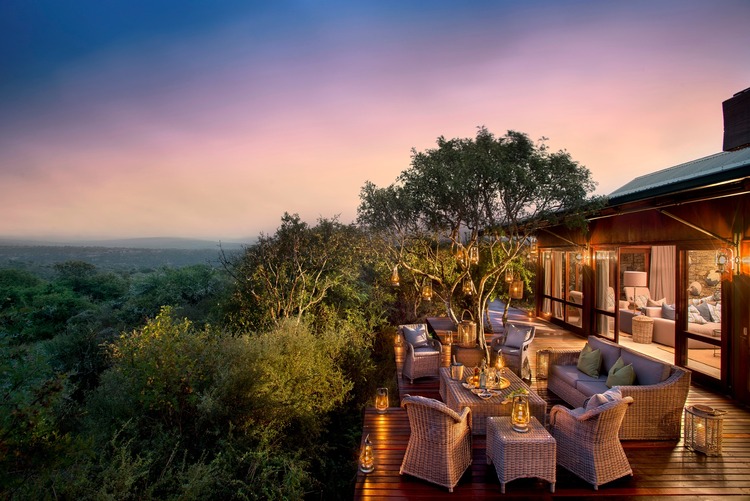 Beautifully built on either side of the curving Great Fish River in the Eastern Cape province of South Africa, Kwandwe Private Game Reserve is a spectacular escape offering a scenic landscape rich in flora and fauna. The reserve features a selection of intimate, serene lodges and exclusive-use villas, together making up an intimate selection of just 26 rooms sitting on a large landscape full of flowering plants. With the wonderful array of lodgings on offer, guests have ample choice whether they're coming as a family, couple, group of friends or a solo traveller.
Marataba Explorers Camp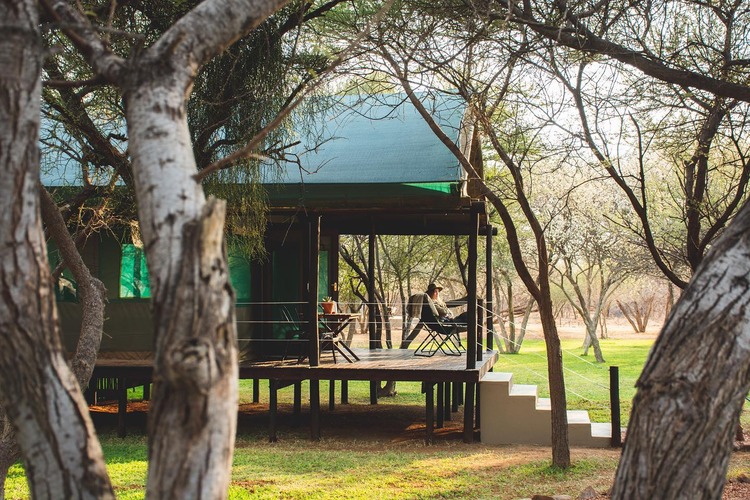 Marataba Explorers Camp is an immersive glamping safari experience in the beautiful Waterberg region of the Limpopo Province. Tucked away inside the vast 21,000-hectare Marataba Contractual Park at the base of the scenic Waterberg Mountains, Marataba Explorers Camp offers lovers of nature the opportunity to experience the wild in its purest form – with all the comforts of home. The camp offers just six tents under the shade of indigenous trees, and allows a maximum of just two bookings at a time for a truly immersive, intimate getaway in the bush.
Rhino Ridge Safari Lodge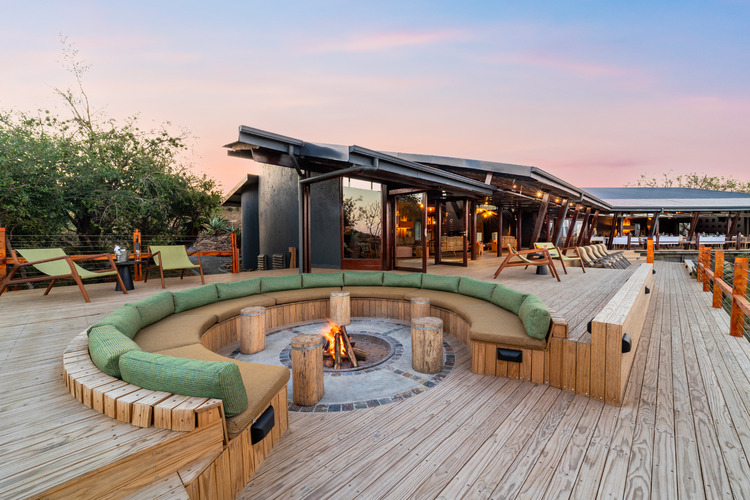 Rhino Ridge Safari Lodge is found in one of Africa's oldest game reserves in South Africa – the Hluhluwe iMofolozi Park, situated in the scenic province of KwaZulu Natal. Rhino Ridge was the first luxury safari lodge to be established within this world-renowned Big 5 game reserve, home to a thriving population of wildlife and almost half of the bird species in the entire Southern Hemisphere. Built on a ridge overlooking a waterhole, Rhino Ridge Safari Lodge sleeps a maximum of 36 guests in four different room types, each placed along a walkway seamlessly blending along a cliff edge and offering magnificent views.
The Ant Collection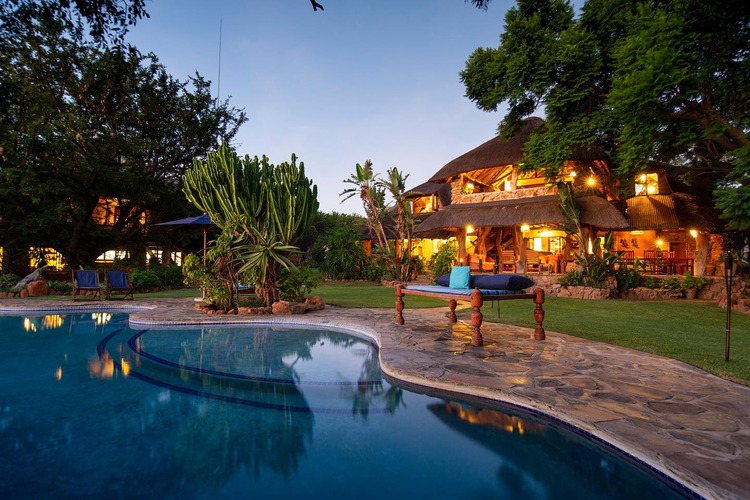 The Ant Collection comprises 12,500 acres of beautiful Waterberg bushveld and is the ideal place to get up close and personal with wildlife whether it's on foot, in a game vehicle, or on horseback. The reserve is home to Ant's Nest and Ant's Hill lodges and is made up of 12 different ecological landscapes from open grassy plains to thick savannah bushveld – offering all the best safari experiences you can find at a classic safari lodge, making it perfect for families, groups of friends or couples. Enjoy mountain biking through the lodge's extremely varied land, explore the South African bushveld in an open 4×4 game vehicle or on the back of a horse, or even better traverse the surrounds on foot and walk with white rhino.
Rhino Sands Safari Camp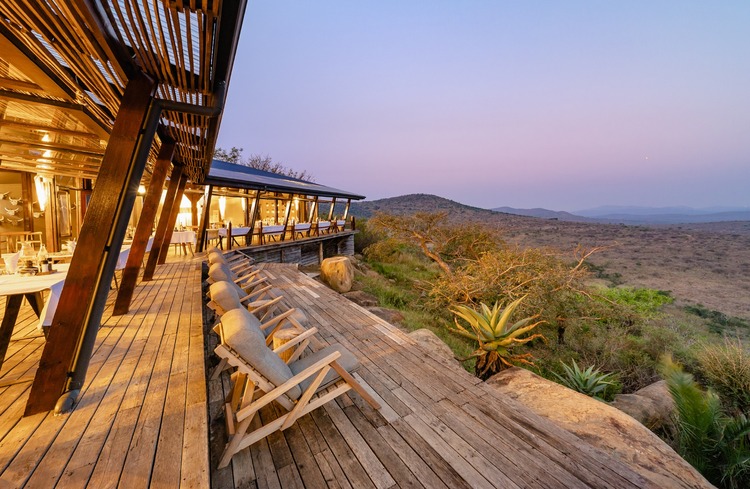 Rhino Sands Safari Camp is a luxury tented retreat situated in Manyoni Private Game Reserve, a well-known Big Five safari destination in the beautiful KwaZulu Natal province. Built as an eco-friendly lodge, Rhino Sands Safari Camp is unique in that it offers guests an authentic safari experience in traditional East African-style canvas tents. Set within the lush riverine forest, the camp is designed to offer guests a way to reconnect with nature in a peaceful, fully-equipped setting. With only four luxury tents, guests are guaranteed a personal and exclusive safari experience in spectacular surroundings, where private decks host to splash pools overlooking the bush await.
Tshwene Lodge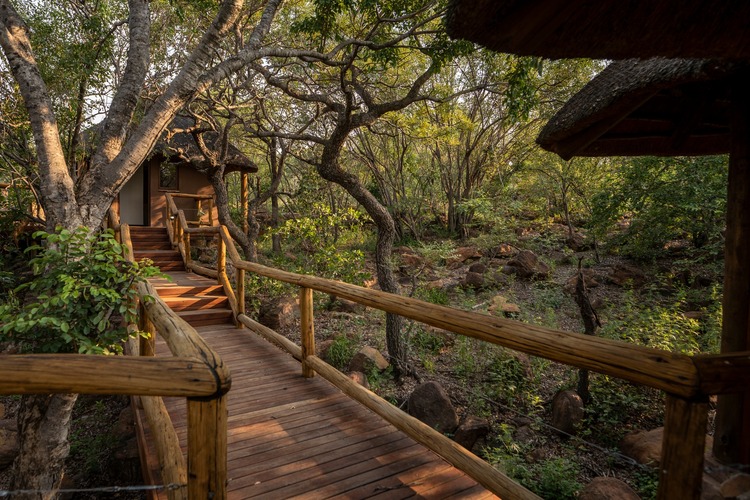 Tshwene Lodge is a private escape consisting of romantic suites, located next to the rocky valley of the Taaibos River in Welgevonden Private Game Reserve in The Waterberg region of South Africa. With just five private suites positioned among a canopy of trees, Tshwene Lodge offers a peaceful sense of serenity for those looking to get away from the hustle and bustle of daily life. Each suite offers sweeping views of the beautiful valley below and towering hills beyond, while the main lodge area offers an open-plan living space with two fireplaces, a bar, spacious lounge area and a large pool deck facing the mountains. The lodge can accommodate 10 guests, and can be booked out exclusively for an intimate getaway with family and friends.
Do your bit towards rhino conservation while enjoying the trip of a lifetime, and book your rhino lodge stay with Conservio today!