Sprawling vineyards, towering mountains, culinary delights and stunning accommodation options are just a few of the attractions that await visitors to the Cape Winelands.
The Cape Winelands region of the Western Cape is a stunning destination renowned for its exceptional wines, rich history, picturesque landscapes, and top-quality dining, and is characterised by its vineyards and historic Cape Dutch architecture all framed by majestic mountains. Perhaps best known among visitors for the wonderful wine and cuisine offerings, the spectacular scenery and abundance of activities speak for themselves! Enjoy leisurely drives through the charming countryside, explore the selection of quaint towns, and embark on family-friendly pursuits such as strawberry picking and visits to local farms among much, much more.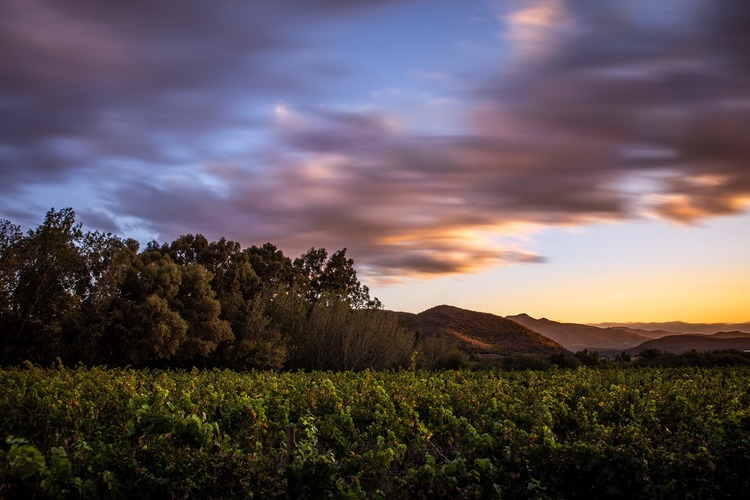 Located approximately 40km from Cape Town in South Africa, the Cape Winelands is easily accessible for travellers seeking a day outing, weekend getaway, or immersive roadtrip through the towns of Stellenbosch, Franschhoek, Tulbagh and Robertson – each of which serve as the heart of the region. With their wine routes representing hundreds of wine and grape producers. These valleys constitute the largest winemaking region in the country, with grape cultivation dating back to the 1600s. The Cape Winelands offers a wide array of accommodation options, from guest houses and self-catering cottages to wine farms and lodges, ensuring that visitors can enjoy a comfortable and memorable stay in this remarkable area.
Stellenbosch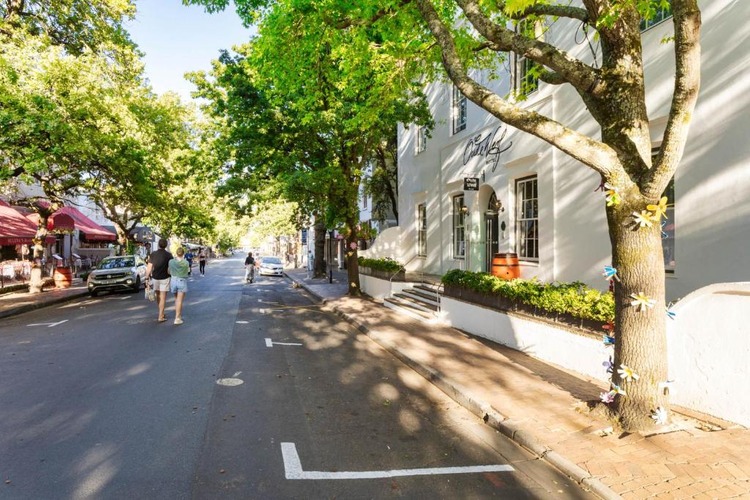 Known as a premier wine, food, and art destination, Stellenbosch is South Africa's second-oldest town and one of the most popular destinations for local and international visitors alike. In addition to beautiful accommodation options, visitors can enjoy unforgettable cellar door experiences, tastings and tours of award-winning wine estates, delicious dining at some of the top restaurants in the country, and a beautiful historic charm that emanates from every corner. Characterised by vibrant town streets lined with ancient oak trees, Stellenbosch is a perfect destination for travellers seeking a hub of culture and an abundance of activities in a stunning setting,
Stellenbosch Accommodation
The Log Cabin Lodge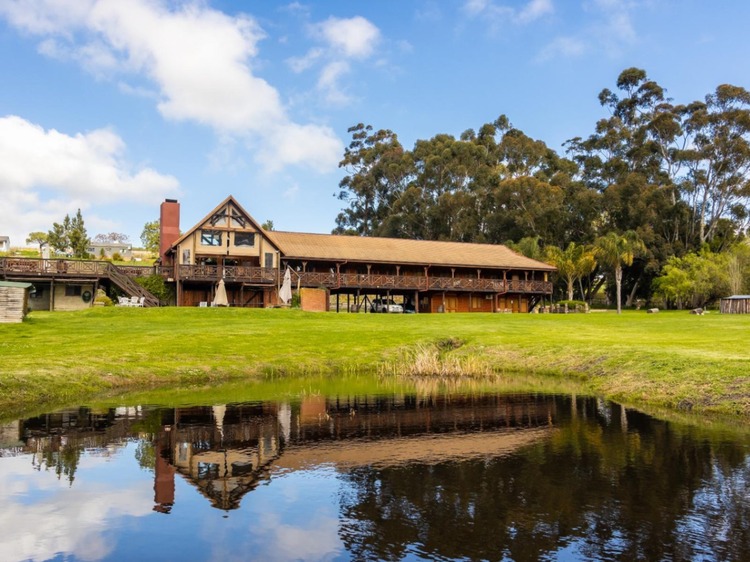 The Log Cabin Lodge is a picturesque getaway offering stunning views and a sense of tranquility in the Stellenbosch Winelands. Surrounded by vineyards, mountains, and rolling valley hills on the scenic Louisvale Wine Estate, this boutique guest lodge offers a wonderful space to enjoy the magic of the Cape Winelands in comfortable lodgings. Guests have the option of staying in The Vineyard Cabin, Heaven's Luxury Villa, Eagle's View Luxury Villa, and The Log Apartment, each equipped with cosy bedrooms, en-suite bathrooms, and a kitchenette, and decorated with handmade furniture matching their respective themes.
Camissa Farm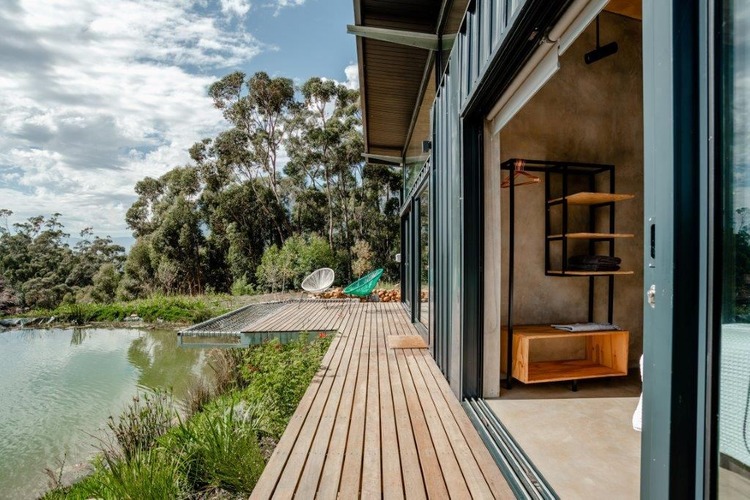 Meaning "place of sweet water" in Khoekhoe, Camissa Farm provides a special combination of relaxing nature and contemporary comfort. Perched high in the Banhoek valley between the Cape Winelands towns of Stellenbosch and Franschhoek, Camissa Farm provides stunning views of the valley between the Simonsberg and Drakenzicht mountains, offering six scenic, individually designed cottages each sleeping between two to six people. Guests can choose to stay in the Almond, Rosemary, Avocado, and Camissa Cottages, or the two-storey Bed in The Shed. Each unit boasts a modern Scandinavian-style interior, with a fully-equipped kitchen for self-catering, a comfortable lounge, homely bedroom and a view-drenched deck overlooking the gorgeous farm.
Franschhoek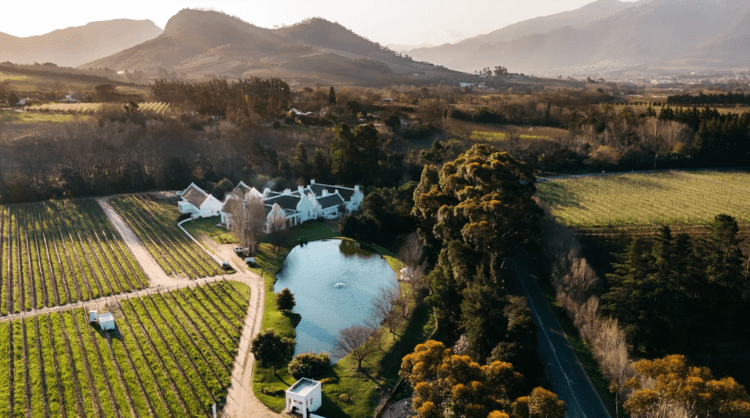 Founded in 1688 by French Huguenots, the beautiful village of Franschhoek (meaning 'French Corner') is world-renowned for its spectacular beauty, wonderful wines and incredible culinary offerings. Surrounded by towering mountains in a lush, fertile valley, the quaint town is considered one of the most beautiful locations in the Cape Winelands, and with wonderful attractions and a selection of world-class lodgings on every corner, it's a must-visit for those exploring the Western Cape. Be sure to check out the gorgeous art galleries, beckoning boutique stores and bevvy of farms for a spot of wine-tasting and delicious charcuterie platters.
Franschhoek Accommodation
Camp Canoe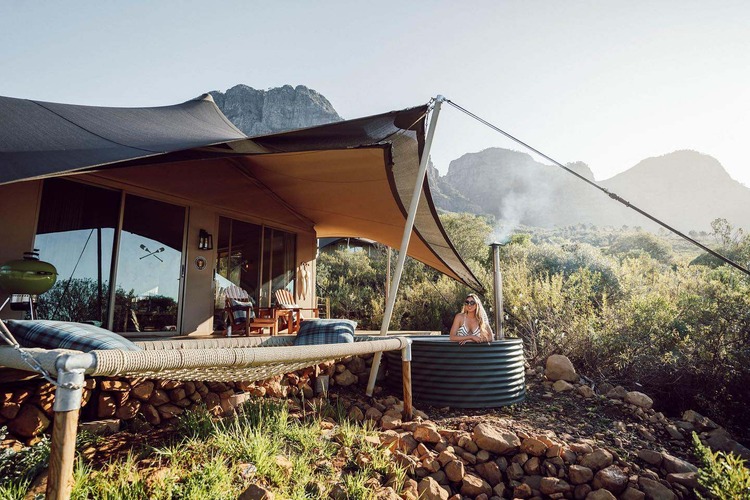 Camp Canoe is situated on a beautiful peak of the Boschendal Wine Estate in Franschhoek, and features just seven luxury tents on the edge of a private dam on the estate, each thoughtfully equipped to provide guests with a comfortable outdoor experience. Each glamping tent is completely private and allows guests to be a part of the natural surroundings without disturbing it. All tents come complete with luxurious king-size beds, a spacious lounge area with a cosy fireplace, and a fully equipped kitchenette for self-catering. Outside, guests are treated to a gorgeous deck overlooking the valley, where a wood-fired hot tub, view-drenched patio seating and outdoor Weber braai await.
Gîte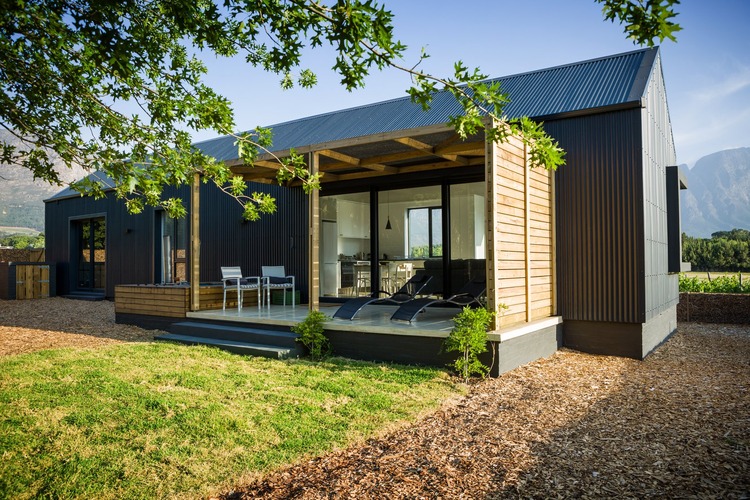 Gîte is a scenic self-catering retreat made up of four eco cabins tucked away in the renowned Franschhoek valley, only an hour's drive from Cape Town. Located in one of the most beautiful regions of the Cape Winelands, Gîte provides an idyllic escape for couples seeking tranquility and a chance to disconnect from busy city life while enjoying contemporary comfort and sweeping vistas of the majestic Franschhoek Mountains. There are four suites to choose from (Gîte units 1, 2 and 3 and Gite Studio), each equipped with comfortable living areas, a full kitchen, and a patio. Gîte provides a serene and rejuvenating retreat, where guests can indulge in the luxury of a private wood-fired hot tub while savouring a glass of local wine and enjoying views in every direction.
7 Koppies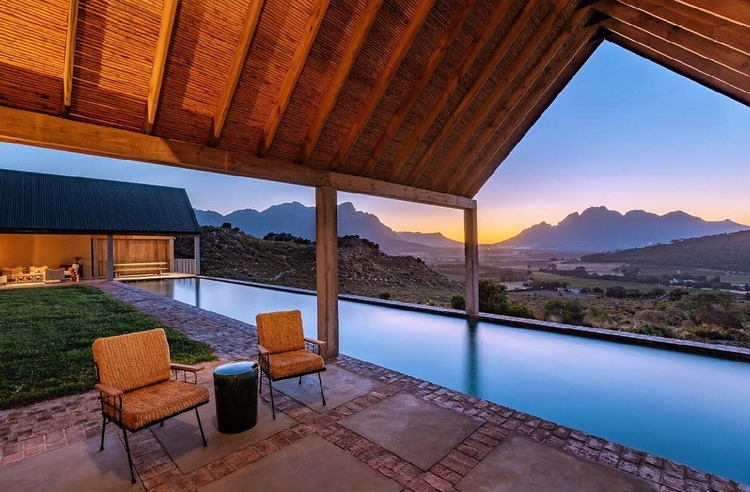 7 Koppies is a gorgeous guesthouse in Franschhoek where guests will experience the ultimate luxury of being surrounded by stunning and untamed natural beauty, creating a sense of seclusion and tranquility, while also having the convenience of easily accessing the finest offerings of the Cape Winelands in beautiful lodgings. The owners have tastefully renovated this farmhouse, infusing it with their eclectic style and creating a space that reflects their diverse travel experiences and unique treasures.7 Koppies features a selection of five exquisitely designed suites each offering their own unique style and features, as well as the separate more exclusive 'Rockwood Private Pool Cottage', located just a short stroll down a scenic mountain path.
Tulbagh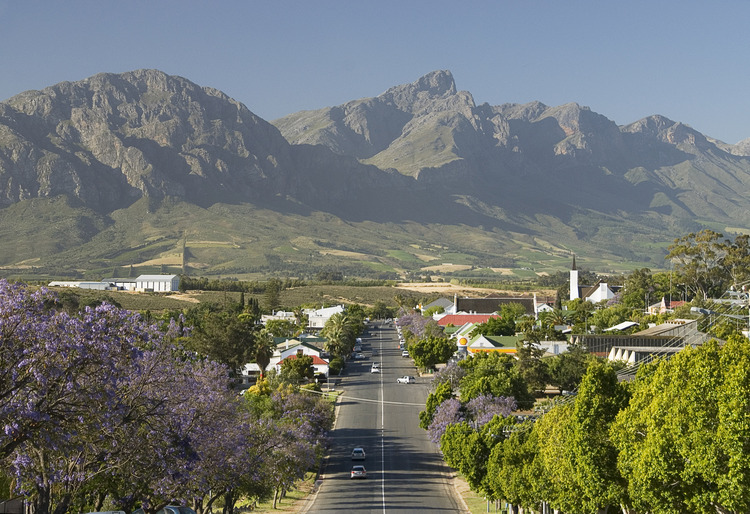 About an hour west of the bustling city of Cape Town, through scenic farmlands and rolling hills, the historical town of Tulbagh is a beautiful reprieve from the hustle and bustle of modern life. Dating back to the early 1700s and the fourth oldest town in South Africa, Tulbagh is home to quiet streets dotted with charming Cape Dutch, Edwardian, and Victorian provincial heritage sites situated among vibrant coffee shops, small farm delis, and fully stocked grocery stores. While the centre of the town is an ideal space to explore the history and culture of Tulbagh, the sprawling surrounds are host to a selection of top-tier wine farms, nature attractions and gorgeous getaways.
Tulbagh Accommodation
Tulbagh Mountain Cabin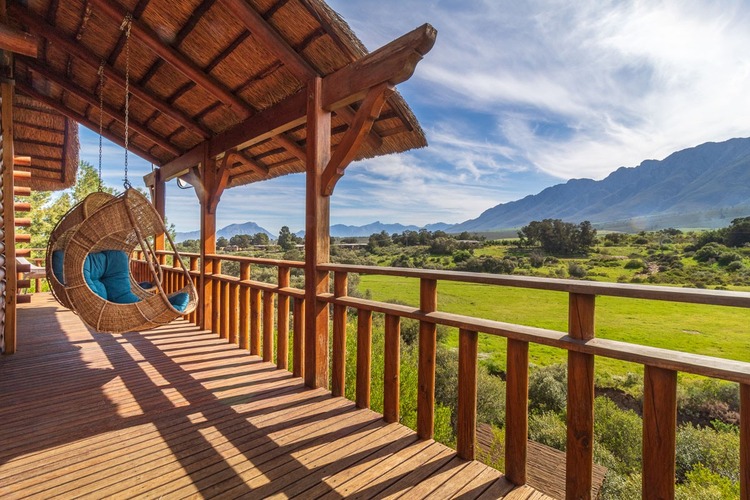 Tulbagh Mountain Cabin offers an authentic countryside experience in the Tulbagh Wine Valley, located in the Witzenberg Game Park at the foot of the Winterhoek Mountains. Tulbagh Mountain Cabin is a four-sleeper hideaway overlooking a winding river, towering peaks and a lush valley, featuring a cosy living area with an indoor fireplace, a fully-equipped kitchen and a twin bedroom on the ground floor, with a main en-suite on the private mezzanine level upstairs. As you step out onto the wrap-around wooden deck, the Witzenberg mountains and the fertile fynbos valley remain in view – offering the perfect setting for sundowners or a morning yoga session. For those who appreciate a good braai/barbecue, a designated area awaits adjacent to the cabin, while further down the path guests can relax in a hammock or outdoor bath alongside the river.
Tulbagh Mountain Bungalow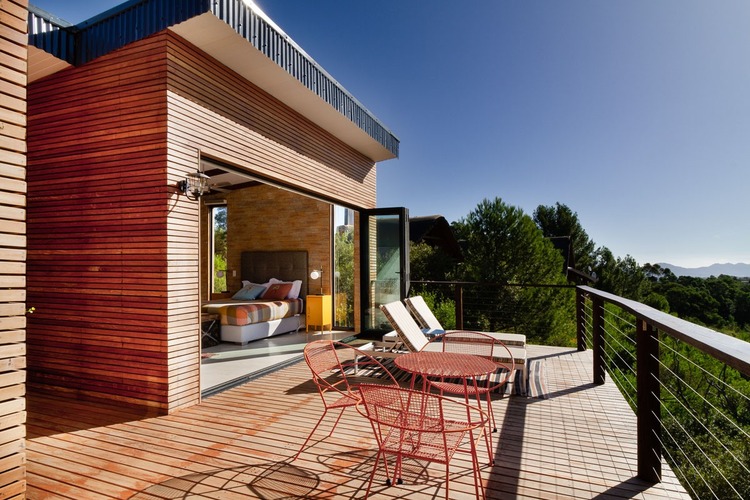 Tulbagh Mountain Bungalow offers a contemporary country escape in a view-drenched wooden cabin in the Tulbagh Wine Valley at the base of the Winterhoek Mountains. Sleeping up to four guests in two double rooms, Tulbagh Mountain Cabin is a perfect option for small families or groups of friends travelling together. The furnished open-plan lounge, spacious kitchen, and large dining area are well-appointed with all the necessary amenities, while each of the bedrooms and lounge feature large stacking doors that open onto a terrace – offering unobstructed vistas of the Winterhoek Mountains and the scenic fields below.
Duikersdrift Winelands Country Escape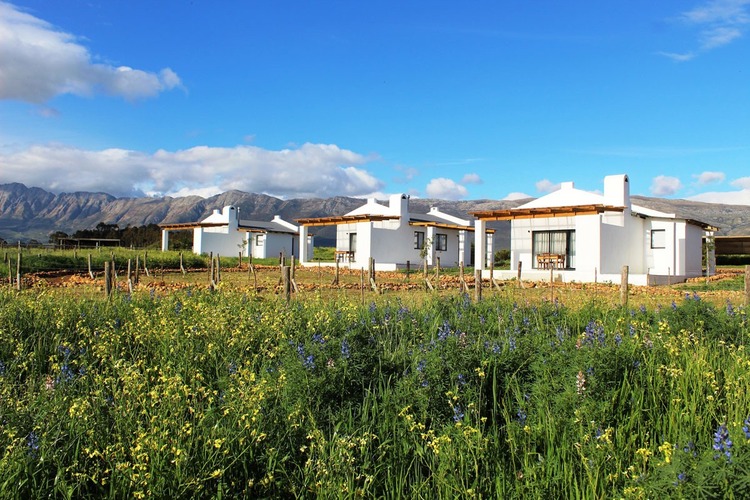 Duikersdrift Winelands Country Escape is situated on a charming 34-hectare (85-acre) working farm, deeply rooted in the time-honored Cape tradition, complete with a vineyard, olive orchard, and paddocks housing horses, donkeys, cows, and a diverse array of birdlife. Surrounded by picturesque mountain wilderness, the farm also serves as a habitat for various wild small animal species. When staying at Duikersdrift Winelands Country Escape, guests are treated to stunning mountain vistas, a laid-back farm lifestyle, and an array of on- and off-site activities catering to a wide range of interests. Duikersdrift has a double cottage that can sleep a maximum of 2 people and a family cottage that accommodates up to 4 people.
Robertson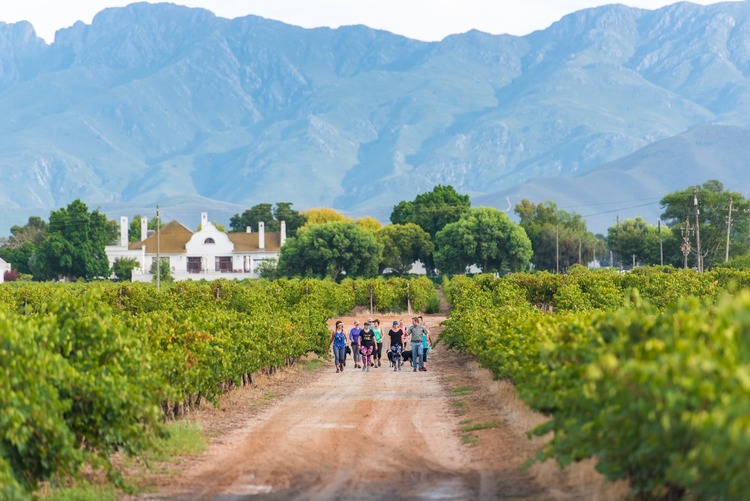 Affectionately known as the valley of wine, horses, and roses, Robertson is the largest town in the Langeberg region and is steeped in history and scenic beauty. Founded in 1853, traces of a magnificent past still remain with magnificent Victorian and Georgian architecture present on almost every street. In addition to its magical architectural heritage, Robertson is known for its wonderful wine farms, organic produce and abundance of nature adventures – including a hike up Arangieskop, the largest mountain in the Western Cape. Situated below the majestic Langeberg alongside the Breede River, Robertson is the western gateway to the famed Route 62, only 1.5 hours from Cape Town.
Robertson Accommodation
Khanyisa Mountain Lodge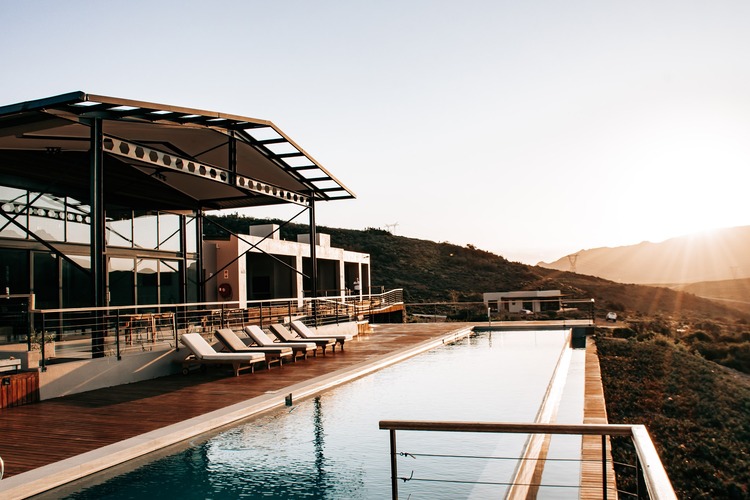 Khanyisa Mountain Lodge is a premier getaway destination located in the small town of Robertson. Tucked away in a picturesque natural setting, this five-star lodge provides luxurious accommodations that are both beautifully decorated and equipped with all the creature comforts. The main area of the lodge features six spacious en-suite bedrooms, each featuring a balcony, fireplace, and outdoor braai/barbecue, for a fuss-free, relaxing stay. Khanyisa Mountain Lodge also offers two cottages which are separate from the main area, each with wood-burning hot tubs. The dining room at the lodge can accommodate up to 50 guests for special events, while the terraced deck provides breathtaking views and access to a 25-meter swimming pool.
Tierhoek Organic Farm and Cottages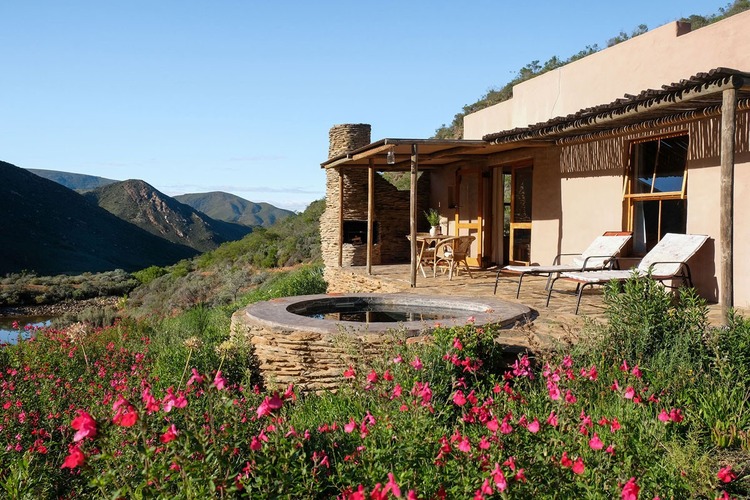 Tierhoek Organic Farm and Cottages is a beautiful self-catering retreat in the scenic Noree Valley in Robertson. Discover tranquility and seclusion in the peaceful and majestic Langeberg Mountains, where a selection of private and view-drenched cottages await – each offering a picturesque base to escape to nature. Each of the five cottages at Tierhoek is attentively furnished and fully equipped with modern amenities for a fuss-free getaway with family or friends. With a private pool, spacious verandahs, indoor and outdoor living areas, full WiFi access, and awe-inspiring views, each cottage enables guests to experience the beauty of nature while enjoying peace, privacy, and the comforts of home.
Orange Grove Farm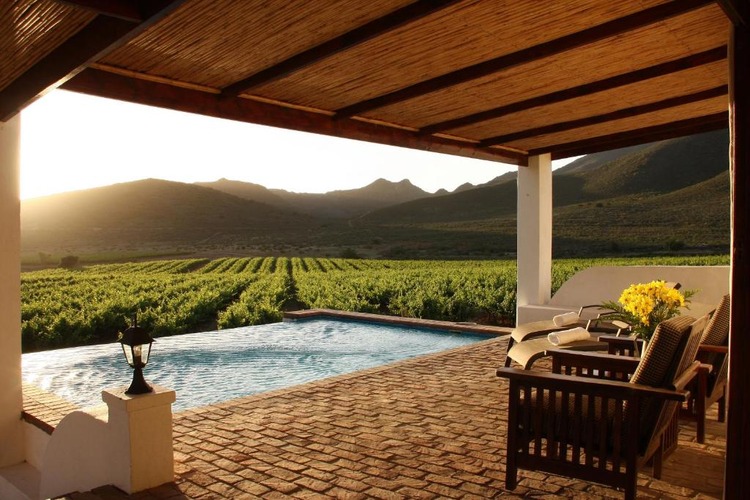 Located in the picturesque Robertson Wine Valley, Orange Grove Farm is a homely lodge-style retreat that offers a secluded getaway with stunning views of the surrounding mountains and vineyards. Conveniently situated just over two hours away from Cape Town, Orange Grove Farm is a working wine and olive farm featuring a 200-year-old Manor House and six charming cottages. Each cottage has its own private plunge pool and verandah for ultimate relaxation in a scenic setting. The six cottages, named after diamond-mining areas, are spacious, well-lit, and equipped with full kitchens, cosy living areas with indoor fireplaces, and barbecue facilities for outdoor dining.
Book your adventure through the Cape Winelands with Conservio today!