The Garden Route, a renowned scenic route in South Africa, encompasses a diverse blend of natural beauty. With its unspoiled coastlines, breathtaking landscapes, captivating wildlife encounters, private game reserves, charming towns, and majestic mountains to explore, it is truly a haven for nature enthusiasts.
This popular route extends along the southeastern coastline of South Africa, spanning from Mossel Bay in the Western Cape to the Storms River just before the neighbouring Eastern Cape province. Its name is derived from the lush and ecologically rich vegetation that thrives here, along with the numerous lagoons and lakes that dot the coastal landscape. Prominent towns along the route include Mossel Bay, Knysna, Oudtshoorn, Plettenberg Bay, and Nature's Valley, with George serving as the largest city.
The Garden Route is outlined by majestic mountains and the Indian Ocean, connected by mountain passes like the Outeniqua Pass and Garcia's Pass, linking the area to the arid Little Karoo. The Outeniqua, Grootvadersbosch, and Tsitsikamma indigenous forests present a unique fusion of Cape Fynbos and Temperate Forest, offering an array of hiking trails and eco-tourism opportunities. The region boasts a rich biodiversity, housing nearly 300 bird species across a range of habitats, from fynbos to forests and wetlands, and was designated as a UNESCO World Network of Biosphere Reserves member in 2017.
George & Wilderness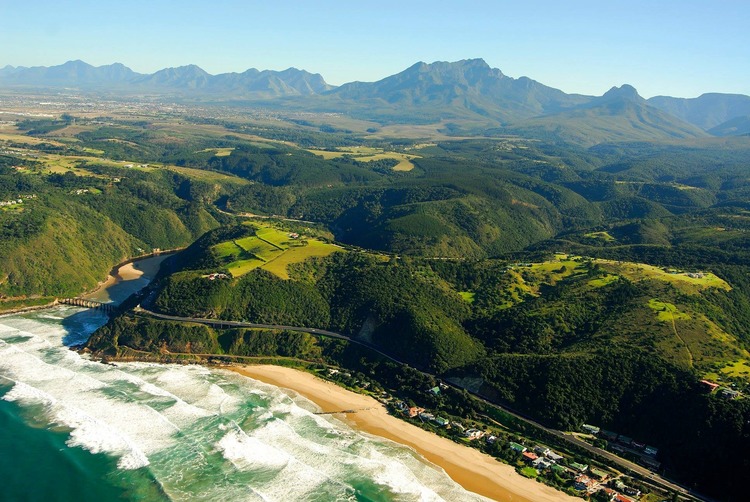 George, conveniently located halfway between the major cities of Cape Town in the Western Cape and Port Elizabeth in the Eastern Cape, is surrounded by the majesty of the Outeniqua Mountains, verdant forests, meandering rivers, and idyllic farmlands. With well-developed road, air, and rail connections to major South African centers, George serves as a convenient hub for exploring the numerous attractions within the surrounding area. About 20 minutes on, you'll arrive in the magical seaside village of Wilderness – offering stunning beaches and numerous viewpoints from which to observe the grace of whales and dolphins, as well as lush forests, serene lakes, towering mountains, and pristine coastlines.
George & Wilderness Accommodation
Sanjika Beach Stay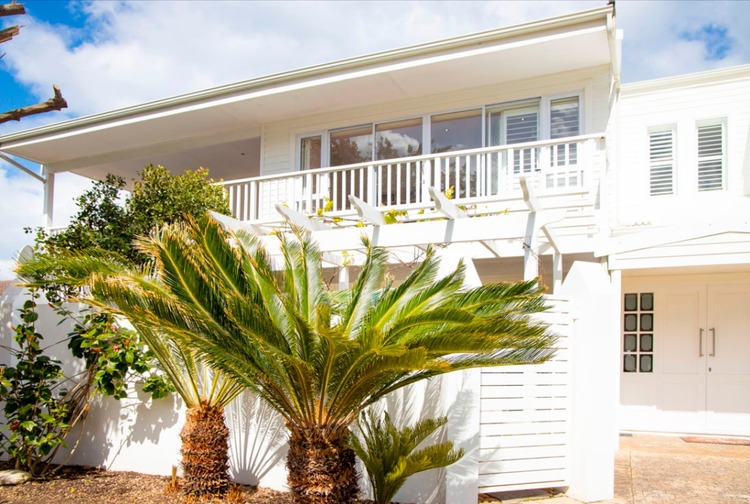 Sanjika Beach Stay is a two-level self-catering escape located alongside Glentana Beach just beyond the George. Decorated with comfortable furniture and offering a lovely laid-back atmosphere, with private access to a Blue Flag beach, Sanjika Beach Stay is ideal for families or groups of friends seeking a tranquil coastal getaway. The upper level, known as Beach House 11A, accommodates up to 6 guests and features three bedrooms, three bathrooms, and an open-plan kitchen, dining, and living area. Meanwhile, the lower level, Beach House 11B, accommodates up to 4 guests with two bedrooms, two bathrooms, and a similar open-plan layout.
Sanjika Farm Stay
Sanjika Farm Stay, also known as the Boshuis, is a gorgeous self-catering retreat set in an indigenous forest at the foot of the Outeniqua Mountains of the Garden Route. Despite its peaceful and far-removed ambience, the farm stay is conveniently located just a short 15-minute drive from George Airport ensuring a hassle-free venture to tranquility and relaxation. The Boshuis at Sanjika Farm Stay can accommodate up to four guests in two en-suite bedrooms, and is fully equipped with everything you need for a private escape in stunning surrounds.
Sedgefield & Knysna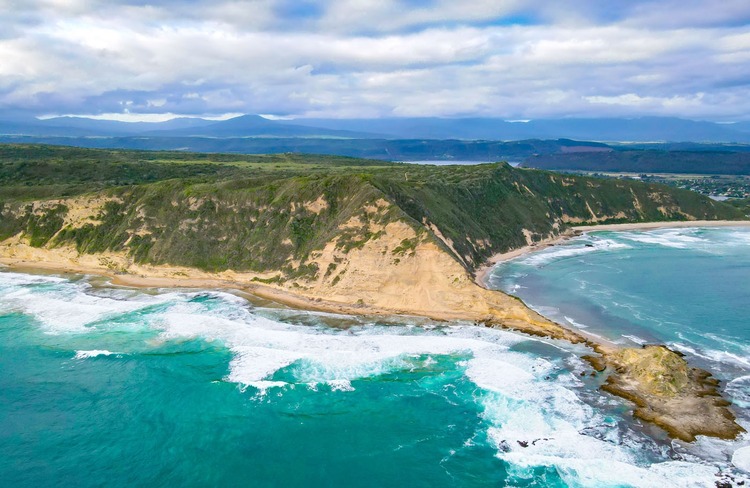 Sedgefield is a charming, small seaside village between the Garden Route towns of George and Knysna, surrounded by tranquil lakes and picturesque sand dunes dotted with fynbos. Sedgefield is renowned for its unspoiled beaches, an array of water sports, and exhilarating paragliding experiences. The next town on, about 20 minutes away, is Knysna – considered one of the most prominent travel destinations along the Garden Route. Located on the banks of a shimmering lagoon, tucked between the famed Knysna Forest and the sprawling Indian Ocean. Knysna is celebrated for its world-famous oysters and lively year-round ambience, as well as a stunning collection of accommodations.
Sedgefield & Knysna Accommodation
Teniqua Treetops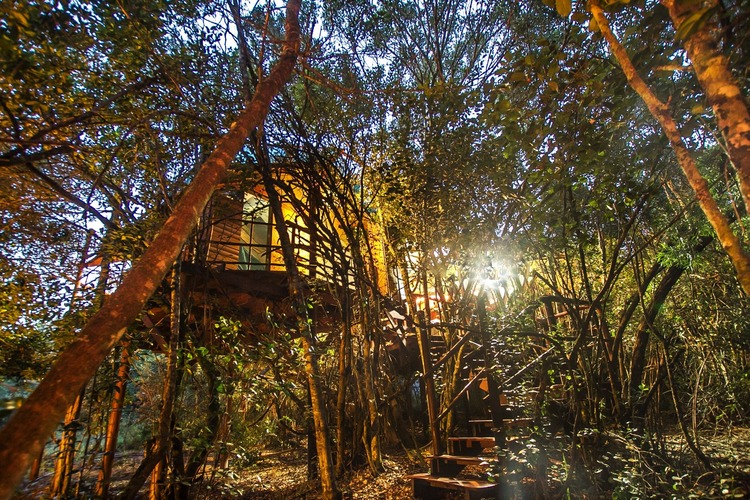 Teniqua Treetops is an immersive nature escape where a selection of wooden glamping units are tucked away among 36 hectares of the Knysna Forest. The 'tree-houses' are off the beaten track, partially off-the-grid and offer a family-friendly experience that is great for birding and hiking, with the closest town of Sedgefield being 20 minutes away. Each of the Teniqua Treetop suites is located in a scenic gorge with access from the ground level, while the front of the units are built on stilts providing spectacular views of the Karatara Gorge and the majestic Knysna Forest.
Simbavati Fynbos on Sea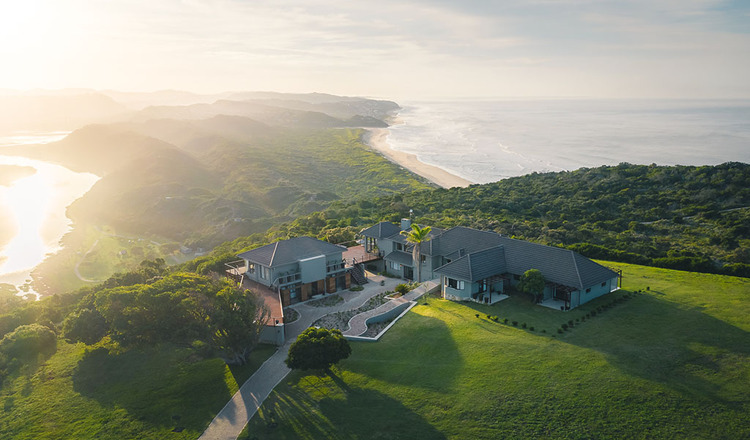 Simbavati Fynbos on Sea is a stunning eco-friendly luxury lodge, tucked away between George and Knysna, sitting on a verdant hillside offering uninterrupted panoramic views in every direction. The lodge is within touching distance of the golden sands and rolling waves of the Indian Ocean, as well as the beautiful Sedgefield Lagoon, and the forest-covered heights of the Tsitsikamma and Outeniqua mountain ranges beyond. The accommodation at Simbavati Fynbos on Sea consists of just nine private rooms within the main lodge, and an additional self-catering cottage that's perfect for those travelling with friends or family.
Woodlands Country Retreat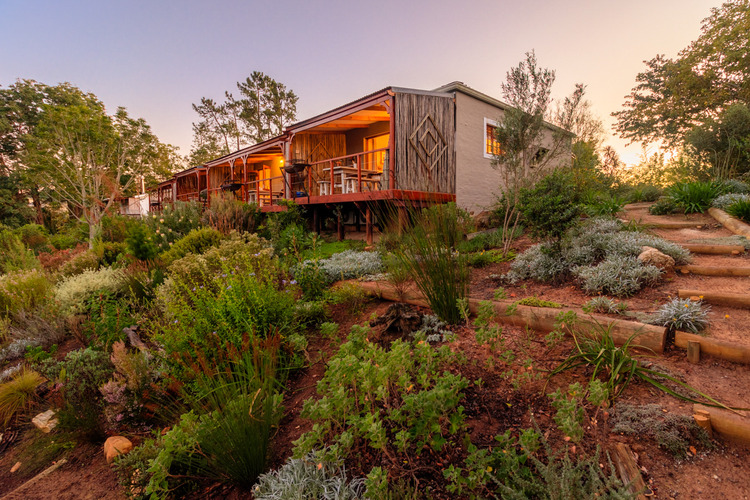 Woodlands Country Retreat is a peaceful self-catering escape wonderfully positioned on a quiet country road just outside the little town of Knysna. Located in the beautiful Rheenendal Valley, surrounded by lush forests and stunning indigenous fynbos gardens, Woodlands Country Retreat offers the perfect base for travellers looking to explore the famed area or simply relax in the picturesque tranquility. The family-run getaway features an intimate number of only five units, comprising two couple cottages, two family cottages, and one unique loft-style tiny house, each sleeping two to four guests.
Forest Valley Cottages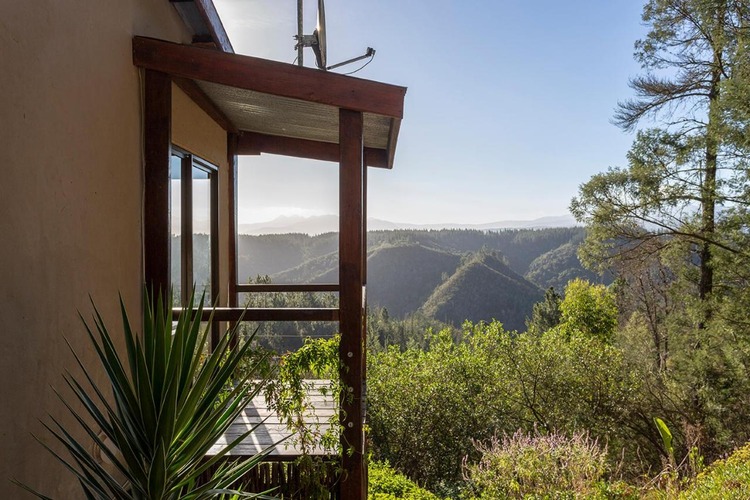 Forest Valley Cottages is a peaceful, immersive escape in the Rheenendal Valley – a lush destination part of the Knysna Forest. Towering above the rich landscape below, the accommodations feature spectacular views over the expansive panoramas, and are equipped with luxury amenities and a wonderful sense of privacy – making it perfect for a rejuvenating getaway in nature. Each of the eight beautiful cottages offers contemporary self-catering living areas, with an indoor fireplace, spa tub, outdoor bath or jacuzzi, braai facilities, and a kitchenette for self-catering ease.
Plettenberg Bay & The Crags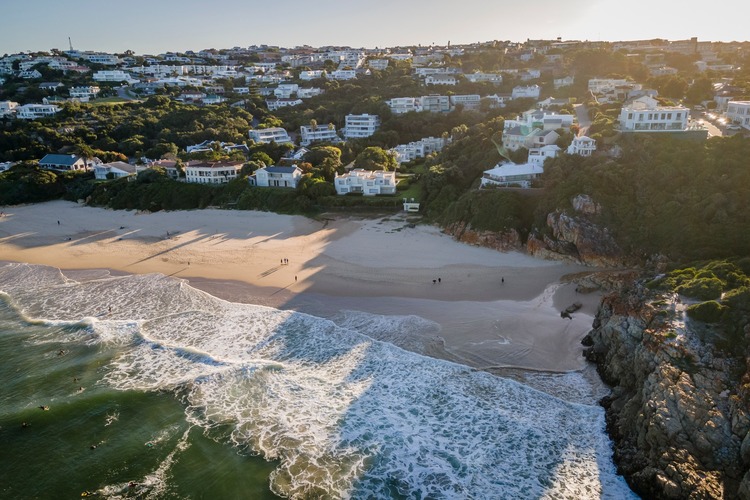 Plettenberg Bay, often referred to as the crown jewel of The Garden Route, is located about 2 hours from Port Elizabeth and around 6 hours from Cape Town. This idyllic destination promises an enchanting holiday experience for travellers, with pristine golden beaches, the striking Robberg Peninsula, captivating lagoons, and estuaries, as well as native forests, an abundance of shops, bars and restaurants. Just 20 kilometers on, The Crags has emerged as a must-visit area along the Garden Route. This region showcases an array of attractions, including polo fields, wildlife sanctuaries, theaters, and a wealth of artistic and craft offerings.
Plettenberg Bay & The Crags Accommodation
The Old Rectory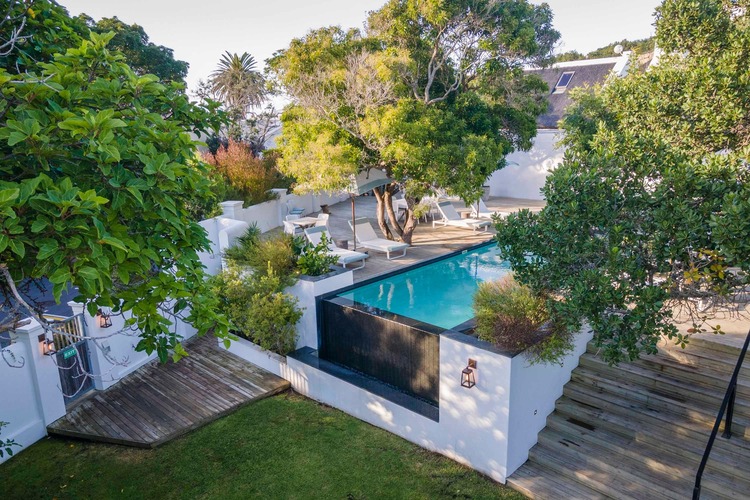 The Old Rectory is a boutique beach hotel with a rich history situated in the heart of Plettenberg Bay. This heritage building, dating back to 1777, has been lovingly restored and transformed into an enchanting escape, making it the oldest surviving building in Plett. With 18 luxurious and stylish suites, The Old Rectory offers a laidback yet luxurious getaway. Each suite boasts modern comforts, including air conditioning, flat-screen TVs, tea/coffee facilities, and Wi-Fi. The Old Rectory also features a sparkling swimming pool with a shaded deck, an in-house spa for ultimate relaxation, and a bistro-inspired restaurant.
Kay & Monty Country House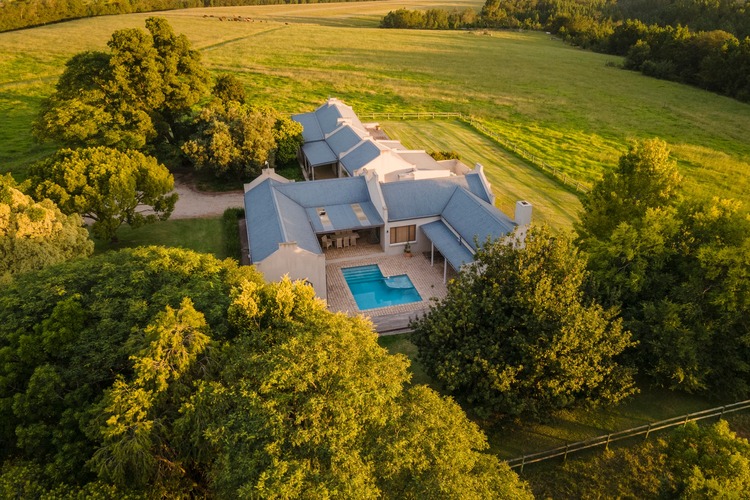 Tucked away in the rolling hills of Kay & Monty Vineyards, the Country House is a scenic private villa located less than 30 minutes from Plettenberg Bay. It is a perfect location to explore the surrounding area and well-suited for a small family or group of friends who wish to get away from it all and enjoy the peace of the countryside. Each of the five large, en-suite bedrooms is individually decorated with breathtaking views of the garden and the surrounding landscape. The house also comes fully equipped with a private swimming pool, large cook's kitchen, braai facilities, cosy indoor fireplaces, a spacious lounge and dining area, and a separate entertainment room opening out onto a wide verandah.
Emily Moon River Lodge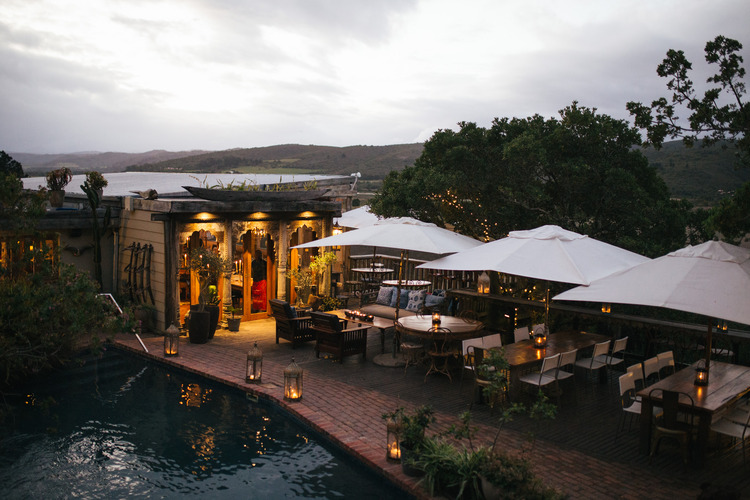 Experience the magic of Emily Moon River Lodge – a boutique escape located on the banks of the Bitou River in Plettenberg Bay. Known for its spectacular setting and unique decor, Emily Moon exudes African charm with a touch of eccentricity. There are 16 individually-designed suites, each overlooking the flowing river, wetlands beyond and mountains in the distance. Owned by Mark and Christine Valentine, the lodge showcases treasures from their global explorations, adding a unique character to a nature-based stay. Guests can choose to stay in one of six superior luxury suites, eight luxury suites, or two family suites, each decorated with personally collected artifacts.
Belle Balance Bush Hideout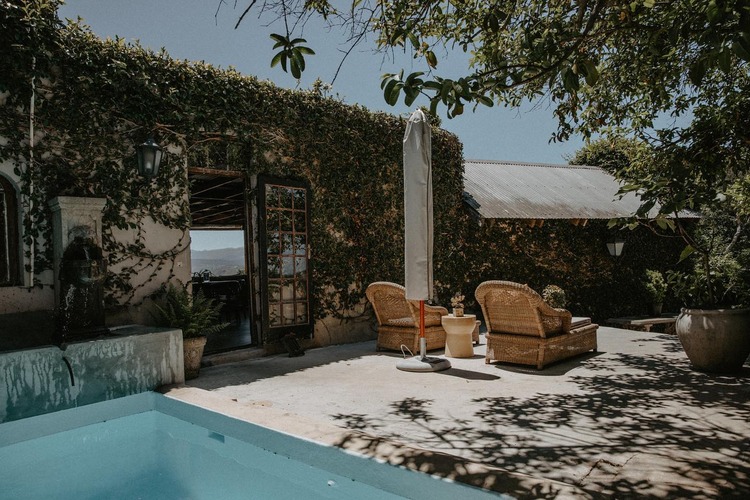 Belle Balance Bush Hideout is a tranquil and exclusive safari lodge hidden away inside the Plettenberg Bay Game Reserve, offering stunning accommodations, exceptional hospitality and breathtaking views of the untamed wilderness just minutes away from stunning beaches. As soon as you step inside Belle Balance Bush Hideout, you'll be captivated by its beautiful interiors featuring local art, spacious living areas and thoughtfully selected furnishings. The lodge features just 10 individually decorated rooms, each offering a clawfoot bath, romantic four-poster beds, historic wooden floors, and cosy fireplaces to create a warm and inviting ambience.
Hog Hollow Country Lodge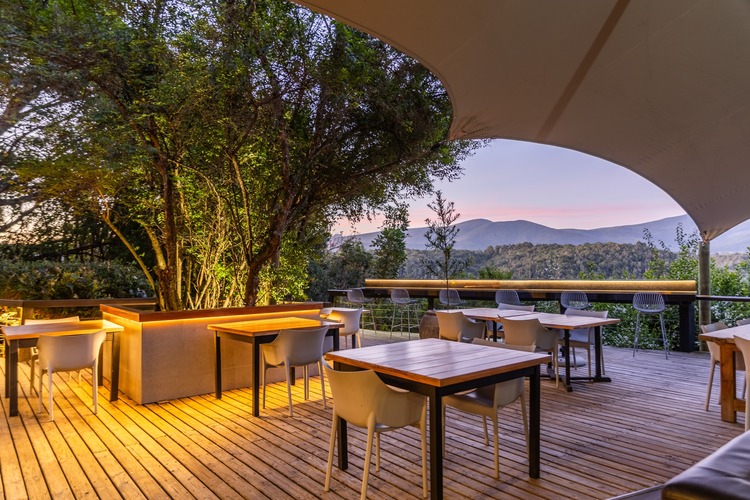 Located in The Crags just outside of Plettenberg Bay, Hog Hollow Country Lodge is a hidden gem situated offering a perfect escape from bustling city life, allowing visitors to immerse themselves in the serenity and beauty of the surrounding landscape, teeming with lush indigenous forests, rolling hills, and meandering rivers. There is a selection of private suites and cosy cottages at Hog Hollow Country Lodge each designed to blend with the natural surroundings. Each option offers stunning views of the surrounding forests or valley, while the on-site restaurant serves up a delectable fusion of local and international cuisine.
Misty Mountain Reserve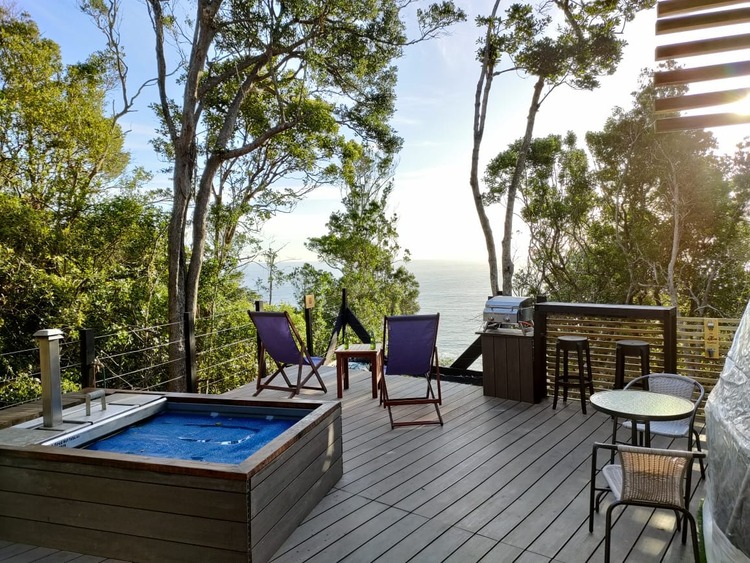 Misty Mountain Reserve lies perched 230 meters above the rugged Tsitsikamma coastline just past Plettenberg Bay. Its magnificent location, adjacent to the Tsitsikamma National Park, means guests can enjoy views of the Indian Ocean, Tsitsikamma Mountains, and the indigenous forest. Accommodation at Misty Mountain Reserve encompasses a variety of options, including ocean-view lodges, dome, pyramid and stargazing units, and lakeside glamping tents – each offering a distinctive experience tailored to every kind of traveller.
No trip to South Africa would be complete without a road trip along the Garden Route. Book your adventure with Conservio today!