Enjoy an unforgettable escape with your furry companion at one of our scenic pet-friendly accommodations across the Western Cape.
A holiday isn't a holiday without being able to share it with the whole family – furry members included. There's nothing worse than having to drop your pup off at a doggy daycare for weeks on end, and thank goodness you no longer have to! Seeing your pet in their element as they play and explore the sweeping landscapes of farmlands and coastal towns – far away from the hustle and bustle of city centres and the noise of traffic – is just as rewarding as enjoying it for yourself.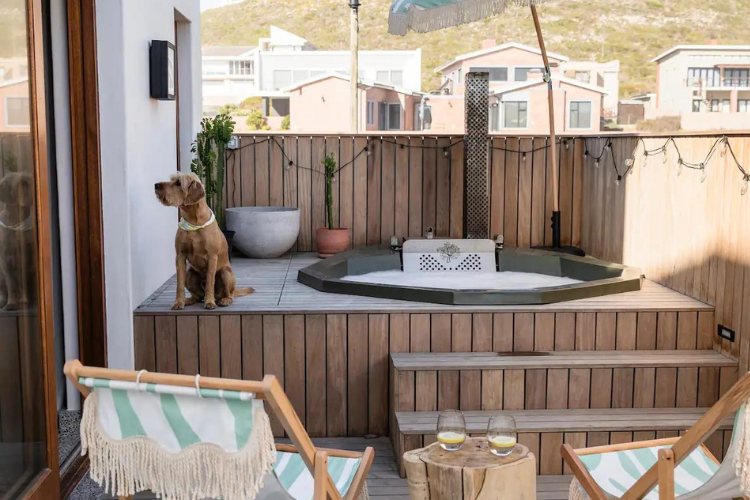 The Western Cape region of South Africa is filled with a selection of scenic stays immersed in nature, that ensure both you and your pets experience an unforgettable break. From contemporary homes on the beach and eco-cabins in the mountains to quaint countryside retreats and gorgeous glamping getaways, Conservio has a Cape escape perfectly suited to you and your furry companion.
Pet-Friendly Accommodation
Olive Stone Farm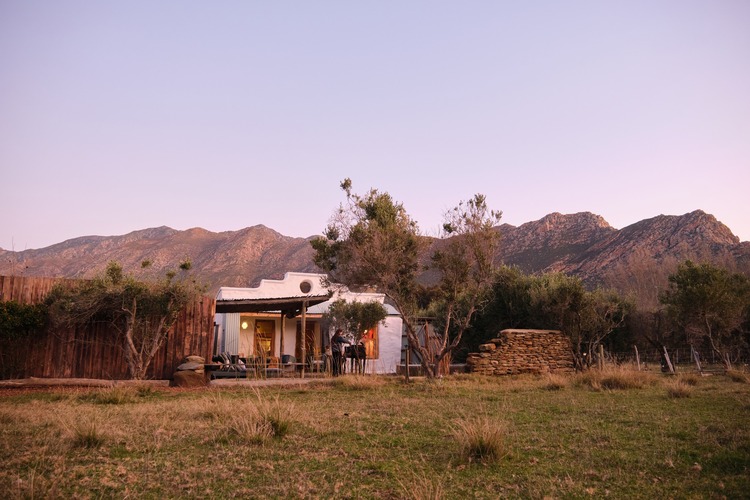 Conveniently located in the heart of Montagu in the Western Cape, Olive Stone Farm is a charming, beautifully designed self-catering escape on a working farm that has undergone a thoughtful transformation. Guests can choose from three cottages – the Olive Cottage, Stone Cottage, or Farm Cottage – all built out of stone collected from farms outside of Montagu. The cottages feature king-sized beds, inside and outside showers, and fully-equipped kitchens with gas ovens and stoves, embracing the off-grid farm-style living experience. Each cottage is equipped with a wood-fired hot tub, electric blankets, heaters, and an indoor fireplace, creating a snug retreat from the chilly weather. The stone barn and animal kraal, a thriving vegetable garden and natural stone swimming pools all add to the character of Olive Stone Farm, which is also a sanctuary to chickens, ducks, sheep, and even a tamed guinea fowl or two.
Southern Yurts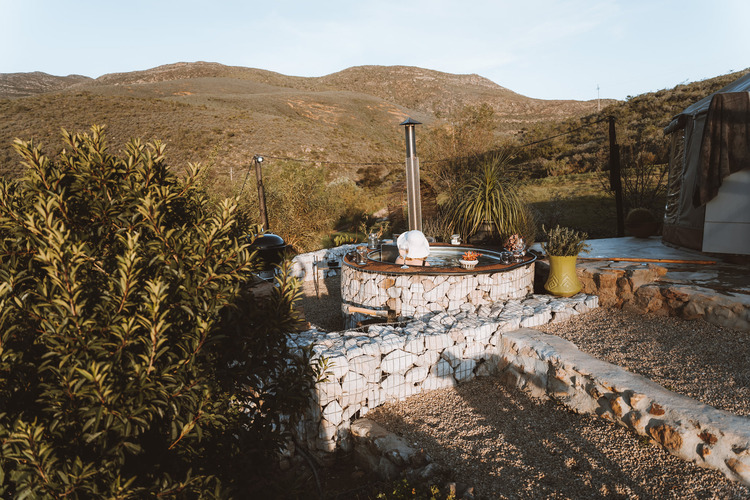 Situated on Porcupine Hills Guest Farm in the Diepklowe Nature Conservancy, Southern Yurts offers a unique glamping experience with stunning views of the surrounding mountains and luxury camping accommodations. With its scenic location and fuss-free facilities, Southern Yurts is the perfect place to stay for those seeking a place to recharge, enjoy an outdoor adventure, or do both. Guests have the option of three private yurt sites, the secluded Forest View sleeping 2 (perfect for a romantic couples retreat) and the 2 to 4 sleeper Kestrel and Malachite yurts, ideally suited to both couples and groups of friends or families. Each yurt offers comfortable double beds, an enclosed outdoor bathroom, fully-equipped kitchen for self-catering, indoor fireplace, outdoor seating and braai area, and even a private wood-fired hot tub.
Somerset Gift Getaway Farm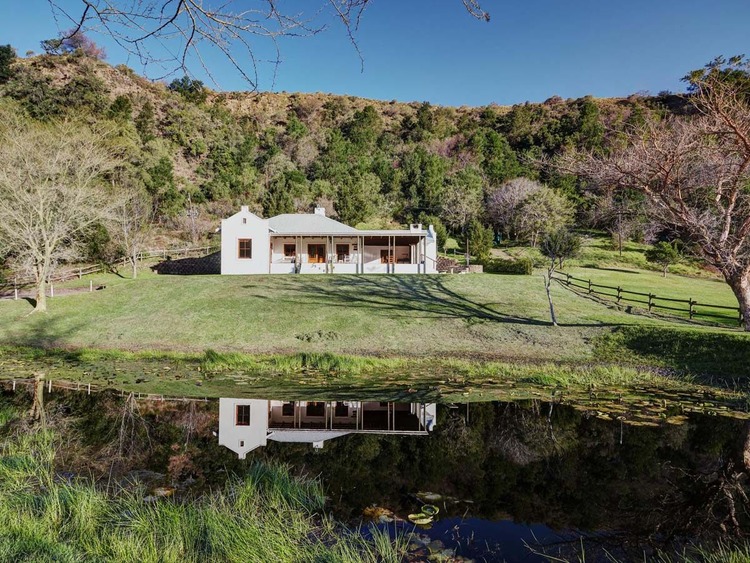 Somerset Gift Getaway Farm is a scenic hideaway located near the historic town of Swellendam in the Western Cape, surrounded by lush green valleys that border the majestic Langeberg Mountains. The private land encompasses thousands of hectares of beautiful mountain ground with trails that wind through indigenous forests and fynbos, leading to mountain valleys, waterfalls, and rock pools. Each season paints its own unique beauty on this landscape, making it a year-round getaway for all. Somerset Gift Getaway Farm offers a range of self-catering accommodations, including the Manor House, Fish Eagle Lodge, Rose Cottage, Loerie Cottage, Olive Cottage, and the Little Bush Buck Cottage – each equipped with collected antiques, charming Cape cottage decor and all the modern amenities needed for a fuss-free stay. The cottages offer privacy while being convenient for groups, with spacious interiors and furnished outdoor areas.
Yzers Boat House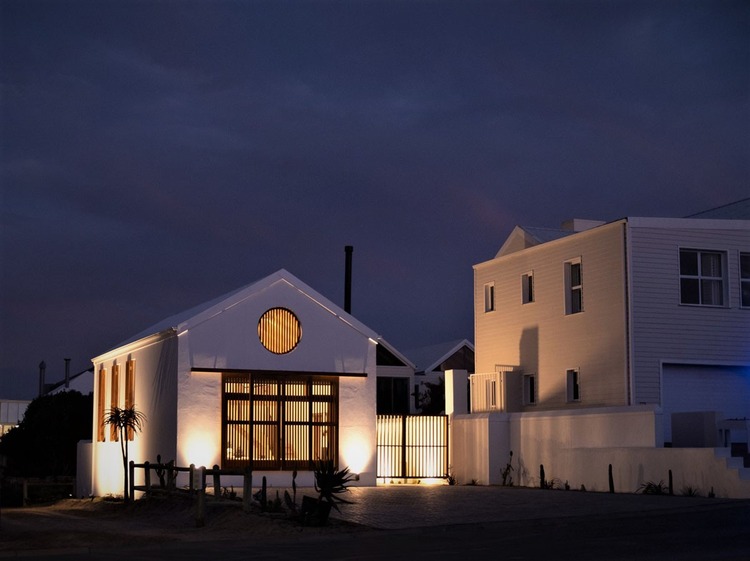 Yzers Boat House is a remarkable coastal escape located in the small West Coast village of Yzerfontein. The pet-friendly accommodation is self-catering and is located just steps away from the beach, offering endless salty adventures. As you enter the unique hideaway that was once an old boat house, you'll be captivated by its extraordinary features. Yzers Boat House boasts two comfortable bedrooms, a well-equipped kitchen, a cosy lounge adorned with a fireplace, and modern amenities such as secure parking and complimentary Wi-Fi. With a capacity to accommodate up to four guests and luxury facilities such as a wood-fired KolKol hot tub and modern SMEG appliances, you're guaranteed an unforgettable stay on nature's doorstep.
Tulbagh Mountain Cabin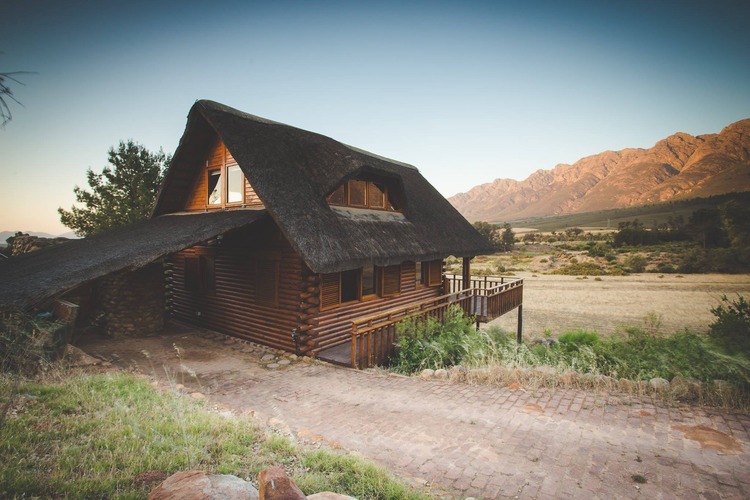 Tulbagh Mountain Cabin offers an authentic countryside experience in the Tulbagh Wine Valley, located in the Witzenberg Game Park at the foot of the Winterhoek Mountains. Tulbagh Mountain Cabin is a four-sleeper hideaway overlooking a winding river, towering peaks and a lush valley, featuring a cosy living area with an indoor fireplace, a fully-equipped kitchen and a twin bedroom on the ground floor, with a main en-suite on the private mezzanine level upstairs. As you step out onto the wrap-around wooden deck, the Witzenberg mountains and the fertile fynbos valley remain in view – offering the perfect setting for sundowners or a morning yoga session. For those who appreciate a good braai/barbecue, a designated area awaits adjacent to the cabin, while further down the path guests can relax in a hammock or outdoor bath alongside the river.
Suidster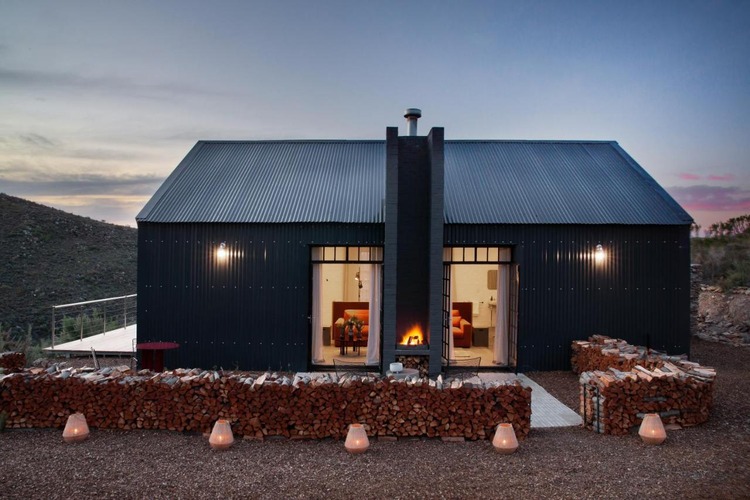 Suidster is a beautiful self-catering retreat located on the famous Route 62 between Montagu and Barrydale at the foot of the Langeberg mountains. There are only two solar-powered eco cabins on the 110-hectare farm in the Klein Karoo, offering a sought-after sense of privacy in nature. The gracefully designed two-sleeper cottages, Poortjies and Dwarriega, feature an open-plan layout and are equipped with stylish furnishings, ensuring a comfortable blend of elegance and practicality. The setting surrounding the cottages is truly mesmerising, offering beautiful vistas in every direction. Whether you choose to explore the magnificent farm landscapes on one of the scenic trails, or prefer to unwind in the comfort of your own stylish cottage or the warmth of your wood-fired hot tub under the stars, you're guaranteed a stay that will leave you with a sense of tranquility.
Blue Gum Country Estate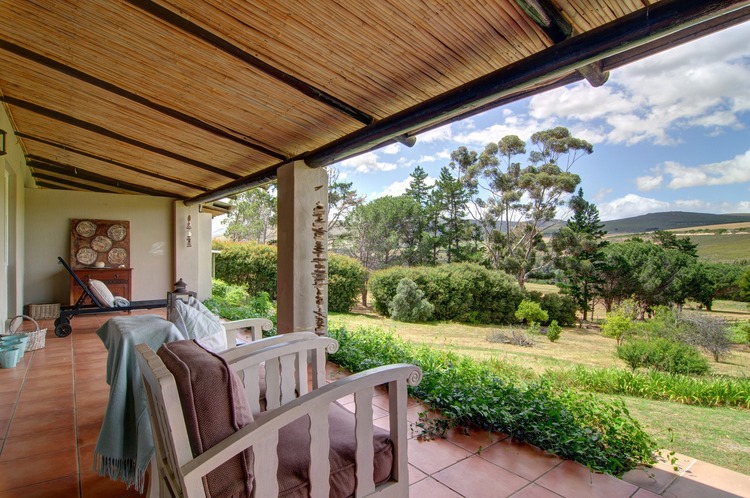 Blue Gum Country Estate is a beautiful getaway located on a working wine farm in the valley leading to the charming town of Stanford, a short drive from Hermanus in the Western Cape. The Gibson family has lovingly owned and operated this estate for over two decades, transforming it into a flourishing vineyard and carefully crafting a rustic countryside space perfect for a romantic getaway, an adventure-seeking young family, or a friend's holiday. Best of all, your beloved pets are welcome to join in the experience! Blue Gum Country Estate offers five spacious self-catering rooms (with the option of bed-and-breakfast) and three bed-and-breakfast-only rooms, some of which feature cosy indoor fireplaces. Additionally, a self-catering villa is available for those seeking a more exclusive experience for a bigger family.
Cheverells Farm Cottages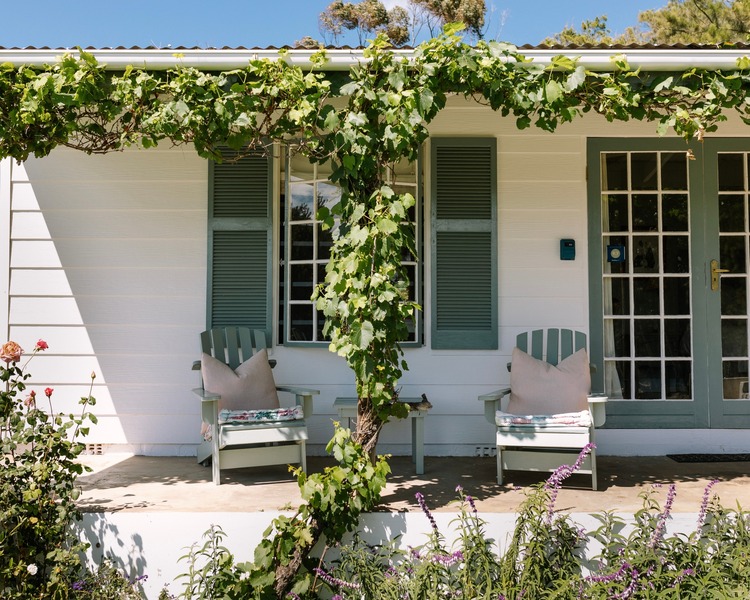 Cheverells Farm Cottages is a charming self-catering retreat located on a third-generation family-owned apple and pear farm situated in the Western Cape's beautiful Elgin Valley. This scenic property offers an intimate number of just two newly refurbished and wonderfully decorated farm cottages, providing fully equipped self-catering accommodation overlooking the stunning fruit orchards and vineyards that best define the Elgin Valley landscape. Each of the cosy cottages offers rustic charm with contemporary conveniences, featuring comfortable beds, fluffy towels, and indoor fireplaces. Guests are invited to experience all that Cheverells Farm has to offer, including a farm shed, country café, gift shop, wellness studio, and a glass greenhouse nursery. This charming working farm not only provides a comfortable escape but also allows you to fully experience the magnificent natural beauty of the area.
Tierhoek Organic Farm and Cottages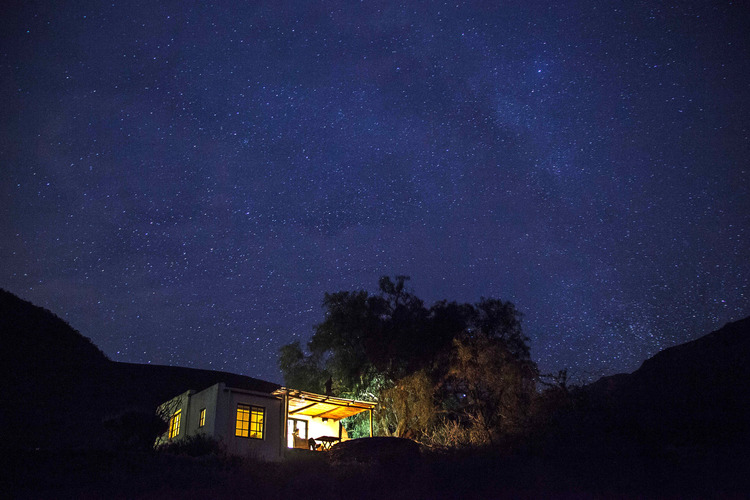 Tierhoek Organic Farm and Cottages is a beautiful self-catering retreat in the scenic Noree Valley in Robertson. Discover tranquility and seclusion in the peaceful and majestic Langeberg Mountains, where a selection of private and view-drenched cottages await – each offering a picturesque base to escape to nature. Each of the five cottages at Tierhoek is attentively furnished and fully equipped with modern amenities for a fuss-free getaway with family or friends. With a private pool, spacious verandahs, indoor and outdoor living areas, full WiFi access, and awe-inspiring views, each cottage enables guests to experience the beauty of nature while enjoying peace, privacy, and the comforts of home.
Tulbagh Mountain Bungalow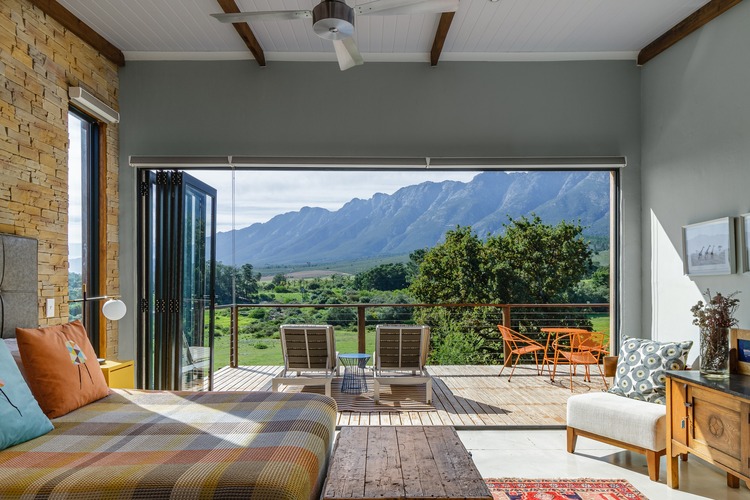 Tulbagh Mountain Bungalow offers a contemporary country escape in a view-drenched wooden cabin in the Tulbagh Wine Valley at the base of the Winterhoek Mountains. Sleeping up to four guests in two double rooms, Tulbagh Mountain Cabin is a perfect option for small families or groups of friends travelling together. The furnished open-plan lounge, spacious kitchen, and large dining area are well-appointed with all the necessary amenities, while each of the bedrooms and lounge feature large stacking doors that open onto a terrace – offering unobstructed vistas of the Winterhoek Mountains and the scenic fields below.
Enjoy an un-fur-gettable adventure when you book a pet friendly stay in the Western Cape with Conservio!