Steeped in ancient history, natural beauty, ever-changing landscapes and scenic hidden gems, the Karoo in South Africa should be on every traveller's bucket list.
The Karoo is a semi-arid desert region of South Africa, spanning almost 500,000 square kilometres and four provinces – the Western Cape, Northern Cape, Eastern Cape and sections of the Free State. It's an immense expanse of land, and has therefore been characterised by two sub-regions: the Great (Groot) Karoo in the north and the Little (Klein) Karoo in the south. Its name, Karoo, is derived from the original Khoi term, "Karus," meaning a dry, desolate, and arid landscape.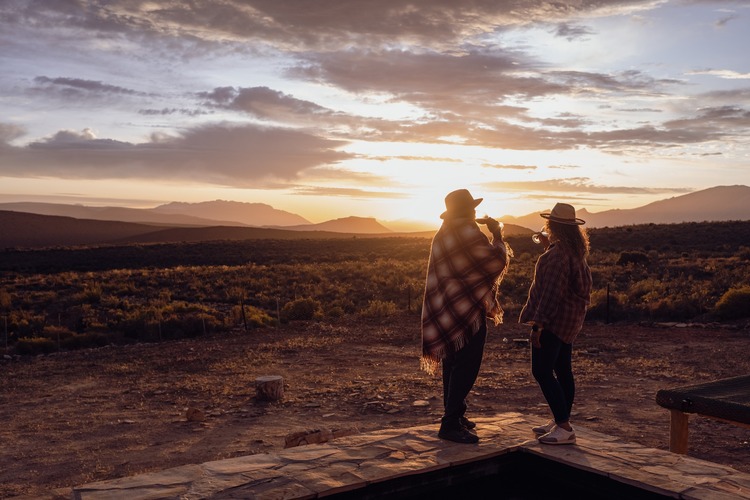 Now, you may be envisioning the likes of the Sahara or Namib deserts, but the Karoo is a place unlike any other. The Karoo is a landscape dotted with towering, often snowcapped, mountains, and expansive plains that seem to extend endlessly until they meld into the far-off horizon. It's distinguished by its diverse succulent vegetation and sparse scrubby vegetation, outlining the shadows of famous Karoo koppies and sweeping farmlands. Scorching in summer and frigid in winter, the Karoo offers an ever-changing experience to those who visit.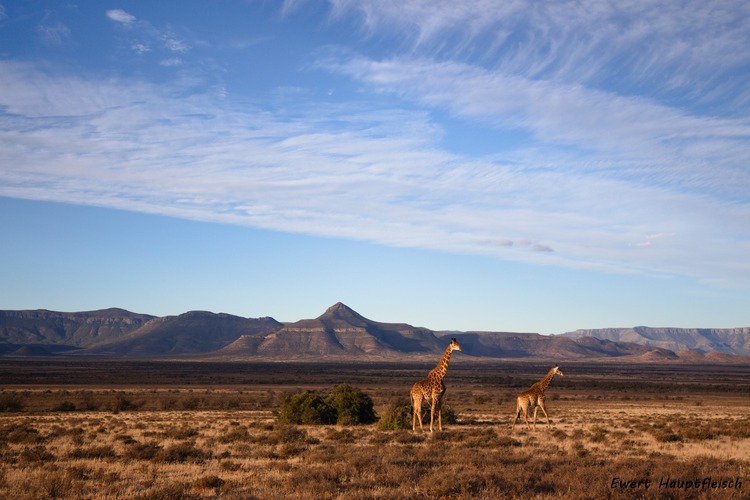 Aside from its natural beauty (stargazing in the Karoo is a bucket list experience of its own!), the Karoo has stood the test of time, with ancient San Art, fossils and evidence of worlds long past dotted throughout its mystical corners. The Karoo is renowned not only for its rich history and breathtaking landscapes, but for its quaint small towns, abundant wildlife, captivating wine routes, and incredible accommodations calling explorers from far and wide.
The only way to explore the Karoo is to take it slow, travel along the back roads, stop at every unique attraction, and fully immerse yourself in the profound stillness, serenity and breathtaking scenery. It's about relishing the warm hospitality the Karoo has to offer, as well as the many attractions waiting to be discovered. No matter which route you take or where you begin, you're guaranteed an unforgettable adventure!
The Little (Klein) Karoo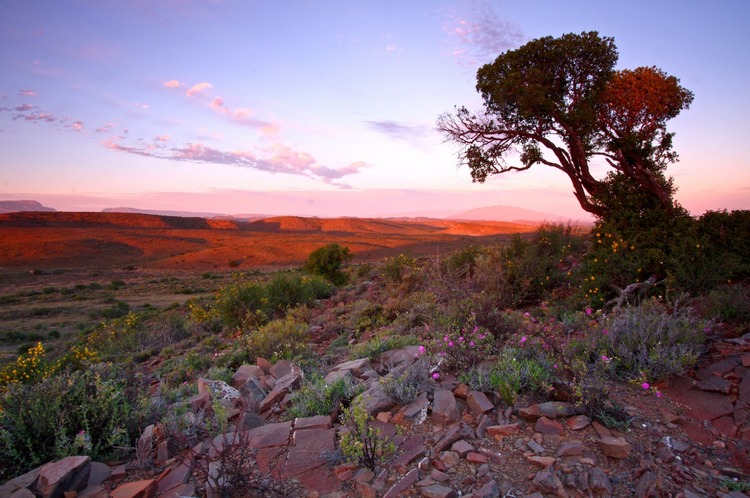 The Klein Karoo, also known as the Little Karoo, is a stunning valley that extends for about 350 kilometers, running from Montagu in the western region to Uniondale in the east. It is enveloped by majestic mountains, with the Swartberg Mountains to the north and the unbroken Langeberge and Outeniqua Mountains to the south.
Perhaps the most famous stretch for travellers throughout the Klein Karoo is the renowned Route 62 Tourist Route. Traversing the entire length of the valley, starting from Montagu in the west and passing through the charming village of Barrydale, it marks the southern gateway to the western parts of the Klein Karoo via the picturesque Tradouw Mountain Pass and beyond.
Klein Karoo Accommodation
Hide Montagu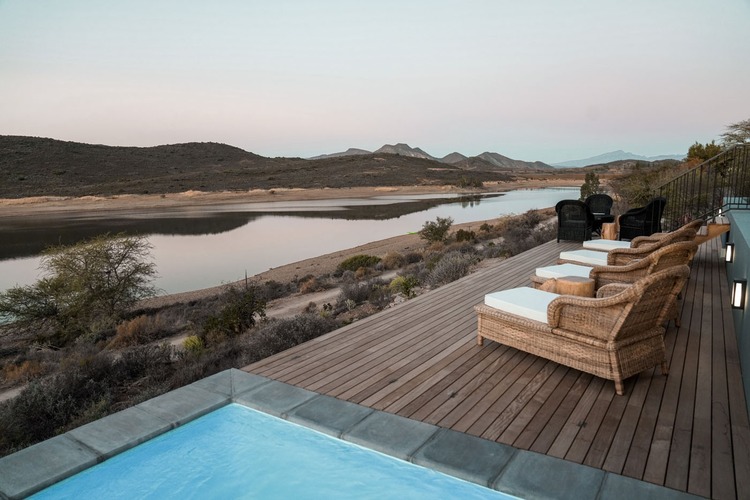 Hide Montagu is a contemporary two-bedroom eco cabin, resting on the hillside of the private Le Domaine Eco (Nature) Reserve in Montagu. The escape is easily accessed although secluded, and is perfectly situated between working fruit farms and rolling mountains. Guests are invited to take a break from busy city life with breathtaking views over the private dam, and a beautifully decorated space to make their own without interruption. The cabin features spacious living areas, with a fully equipped kitchen, creative inside and outdoor spaces, a fire pit, and even a pizza oven.
Sanbona Wildlife Reserve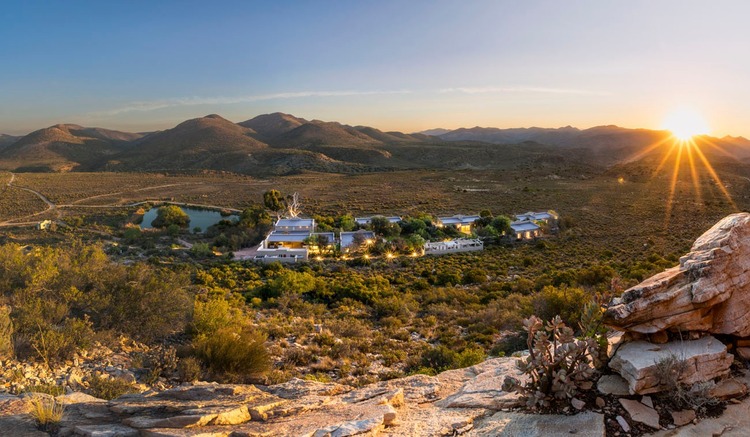 Sanbona Wildlife Reserve is one of South Africa's largest privately-owned nature reserves, spanning a magnificent 58,000 hectares that encompass two biodiversity hotspots. This vast expanse in the Little Karoo, just outside Montagu, awaits a mere 3.5 hours' drive from Cape Town along Route 62, and is home to the Big 5 and rare white lions. Guests staying at Sanbona can choose between the romantic Dwyka Tented Lodge, kid-friendly Gondwana Family Lodge, or homely Tilney Manor – all fully inclusive, and each offering their own unique charm and appeal.
Kingfisher Cottages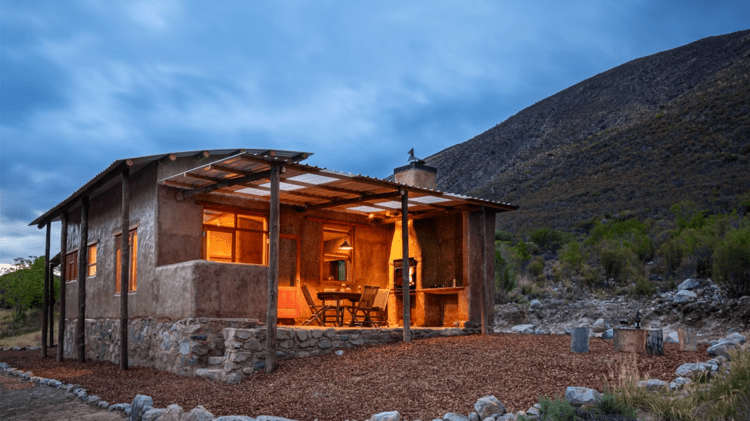 Kingfisher Cottages in Montagu offers charming and comfortable self-catering accommodation among the scenic beauty of the Klein Karoo region. There is one stone cottage and three eco-cottages, each thoughtfully designed and equipped with everything needed for a relaxing stay – including cosy bedrooms, well-appointed bathrooms, and a fully equipped kitchenette or kitchen allowing guests to prepare their own meals if desired. Outside, guests can enjoy the peaceful surroundings and unwind in their private hot tub, or on the shaded patio, taking in the breathtaking views of the surrounding mountains and gardens. The property also offers a communal swimming pool, perfect for a refreshing dip on warmer days.
Montevue Nature Farm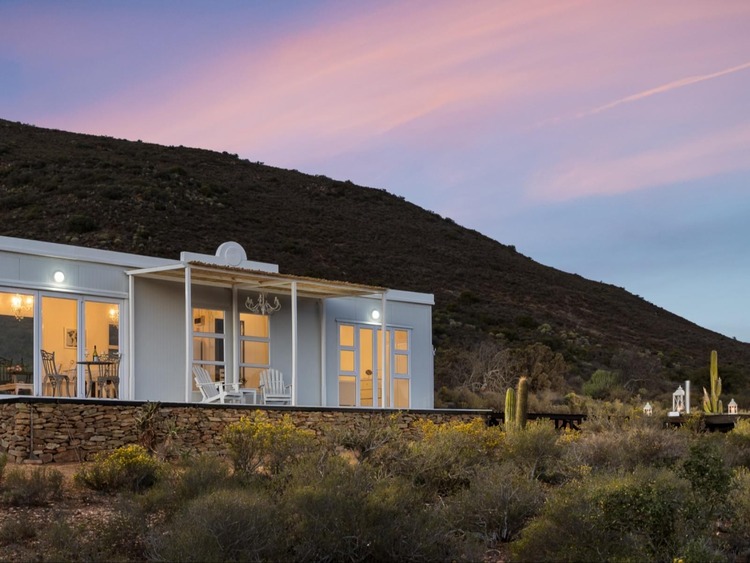 Montevue Nature Farm is a beautiful escape hidden in Klein Karoo mountains, and surrounded by natural veld creating a serene environment perfect for relaxation. Montevue Nature Farm's aim is to provide a sense of complete seclusion in the heart of the Klein Karoo, and with two unique, eco-friendly units thoughtfully spaced out on the property, ensuring privacy and a deep connection with nature, they've certainly met that goal. Guests have the freedom to explore the vast 1050-hectare nature farm at their own pace, engaging in activities such as hiking, 4×4 driving, mountain biking, and climbing. It's an opportunity to discover and appreciate this unique property as if it were your own, and while you may feel like you're in the middle of nowhere, the town is only less than 15 minutes away.
Kudukloof
Kudukloof is a luxury off-the-grid homestead situated in the Karoo wilderness, located on 550 hectares of untouched Western Cape bushland – providing unparalleled valley views and a sense of seclusion like no other. Just under two hours from Cape Town, Kudukloof provides the perfect remote retreat for friends and family seeking an unforgettable experience. With seven bedrooms, Kudukloof can comfortably accommodate large groups and families, while the fully equipped kitchen, spacious living and dining area and a crackling fireplace ensures guests have all they need for a fuss-free getaway. intimate and memorable atmosphere. Outside, a large deck offers magnificent views of the Karoo, with a splash pool, wood-fired hot tub, and a fire pit boma with BBQ/braai facilities for evenings under the stars.
Suidster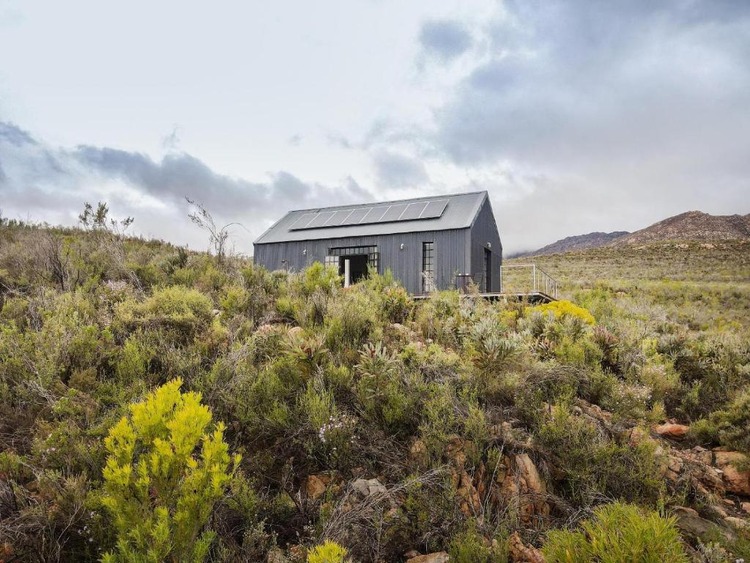 Suidster is a beautiful self-catering retreat located on the famous Route 62 between Montagu and Barrydale at the foot of the Langeberg mountains. There are only two solar-powered cottages on the 110-hectare farm in the Klein Karoo, offering a sought-after sense of privacy in nature. The gracefully designed two-sleeper cottages, Poortjies and Dwarriega, feature an open-plan layout and are equipped with stylish furnishings, ensuring a comfortable blend of elegance and practicality.
The Great Karoo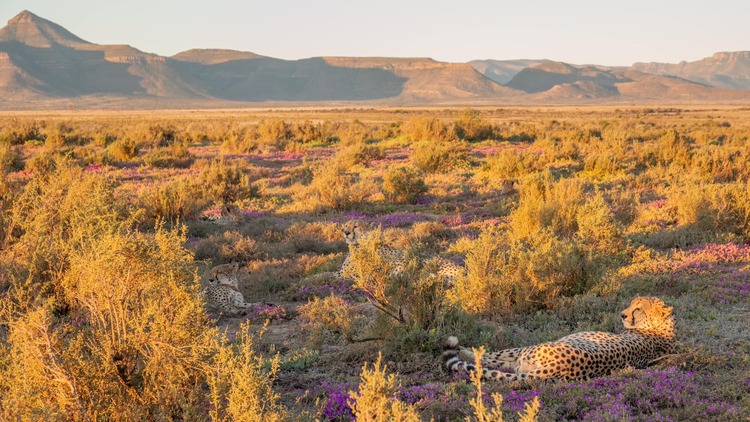 Crossing the borders of the Free State to the north and the Eastern Cape in the east, the Klein Karoo opens its plains even further to become the magnificent Great Karoo. The Great Karoo lies to the north of the Swartberg Mountains, and covers more than 400,000 square kilometres – an area larger than Germany!
Although the ever-changing landscape of the Klein Karoo carries on, The Great Karoo is unique as it covers some of the most ancient lands in South Africa dotted with spectacular sights. Attractions include an array of Big 5 reserves, historical towns such as Graaf Reniet and Clarens, and the incredible Camdeboo National Park – formed hundreds of millions of years ago, and one of the great natural wonders of the world.
Karoo Ridge Eco-Lodges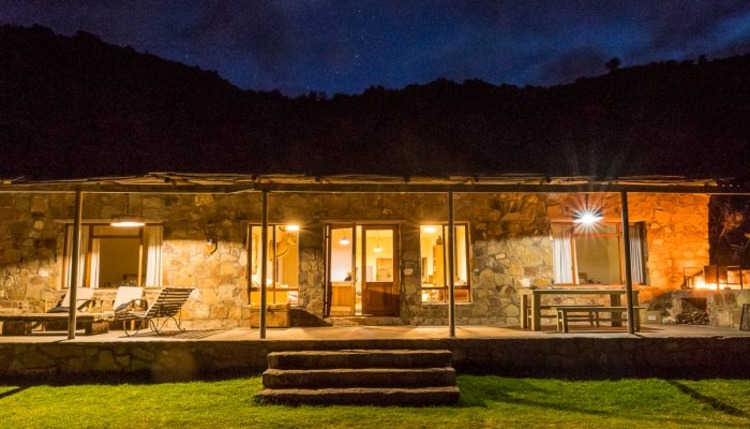 Karoo Ridge Eco-Lodges is situated in the Suurberg Mountain Range in the Great Karoo, overlooking an expansive area of land with a great diversity of vistas, flora and fauna. Karoo Ridge Lodge Eco-Lodges features two exclusive-use lodges (Mountain Lodge and River Lodge) that are each perfect for families or groups of friends looking to experience an uninterrupted stay in spectacular surrounds. Guests can go on self-guided trails from the lodge, swim in seasonal deep river pools, go on a guided outing into the Karoo veld, and spot an abundance of birds and wildlife such as kudu and mountain reedbuck.
Mount Camdeboo Lodge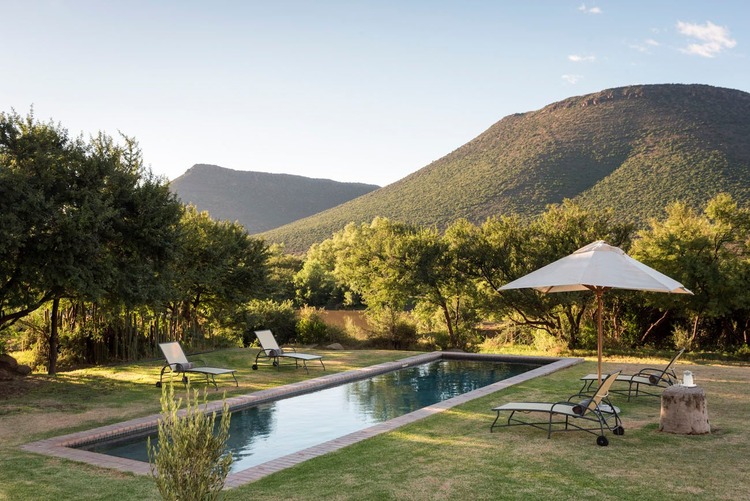 Mount Camdeboo Lodge, located on Mount Camdeboo Private Game Reserve, is an incredible nature destination that sits at the foot of the Sneeuberg Mountain Range in the Great Karoo. Aside from being a huge pillar of conservation in the area, home to various endangered and threatened species that have been successfully reintegrated and reintroduced into the Karoo, the reserve is home to the Big Five reserve – providing guests with a real safari experience in one of the most beautiful landscapes of Southern Africa. Mount Camdeboo Lodge offers a variety of accommodation, including the two-sleeper Camdeboo Peppertree Cottage, the six-sleeper Camdeboo Hillside Manor, and the two eight-sleeper Camdeboo Manor Houses.
Samara Karoo Reserve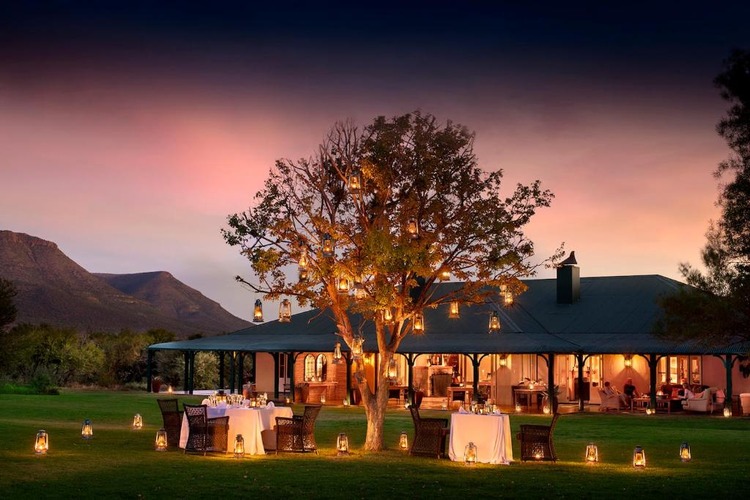 Samara Karoo Reserve is a scenic private game farm located on a breathtaking piece of land in the Great Karoo region of the Eastern Cape in South Africa. Samara Karoo Reserve was founded with a dream of bringing back the magic of the Great Karoo, which has since become a reality as the area is now home thousands of wild animals roaming freely, after years of it just being an agricultural area. Samara Karoo Reserve consists of two intimate lodges – Samara Manor and Samara Plains Camp – each designed to provide guests with the serene experience of being immersed in the Karoo. Samara Private Game Reserve has countless safari activities for their guests to enjoy, including daily game drives, tracking sessions, conservation activities, wilderness picnics and even fly camping.
Camdeboo Pods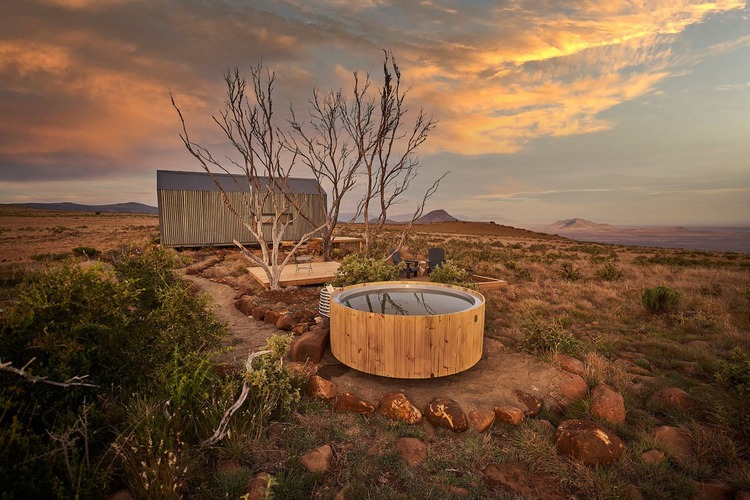 Mount Camdeboo Private Game Reserve, at the foot of the Sneeuberg Mountain Range in the Great Karoo, is the answer to a spectacular malaria-free safari experience. For those seeking a private, unique and unforgettable wildlife experience in the Great Karoo, the contemporary two-sleeper Camdeboo Pods are your answer. The eco-friendly pods are situated in an undisturbed part of the Camdeboo Plain and blend effortlessly with the natural environment, and feature a fully equipped kitchen, cosy bed overlooking the plains through floor-to-ceiling windows, an en-suite bathroom and private outdoor hot tub – providing every comfort while leaving very little environmental footprint. Guests can enjoy game drives, stargazing, sundowners and nature walks.
Roam Private Game Reserve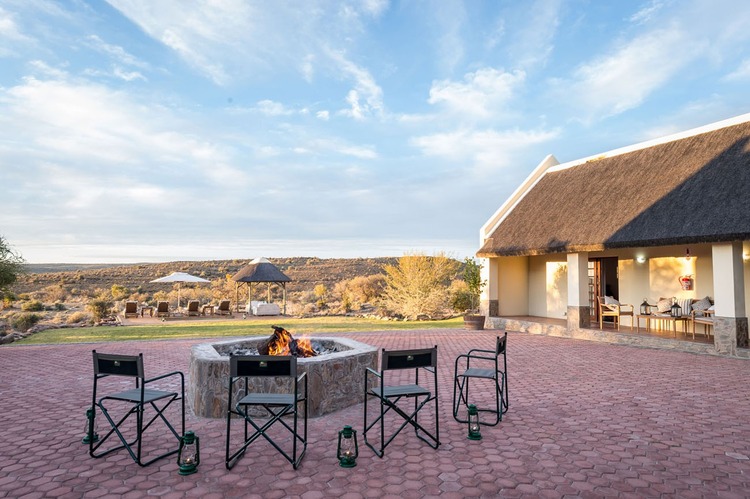 Roam Safari Lodge is located in Roam Private Game Reserve – a beautiful destination situated in the Great Karoo region characterised by endless horizons, breathtaking sunsets, and mesmerizing star-studded night skies. Roam Safari Lodge is just one of the accommodation options at the reserve, providing guests with a touch of country luxury while enjoying the arid Karoo landscape that envelops it. Roam Safari Lodge consists of three adjoining thatched-roof houses surrounding a spacious courtyard, while Roam Explorer Camp consists of five explorer tents, each interlinked by clear pathways and dotted around a central area with a fire pit and a dining/seating area for meals under the stars.
Are you ready for your Karoo adventure? Book your stay with Conservio today!