Experience the rare magic of a Western Cape safari with our collection of immersive lodges and authentic private game reserves.
It's no secret that South Africa is a quintessential safari destination, where the Big 5, rare birdlife, rich biodiversity and spectacular game lodges are par for the course. Most locals and tourists alike travel to the northern centre of the country to experience the untouched African bush and the rich wildlife that frequents it. These include popular safari destinations such as the Greater Kruger, Madikwe, and the Waterberg, all of which offer a spectacular game viewing and adventure experience. But there's another region that people often overlook.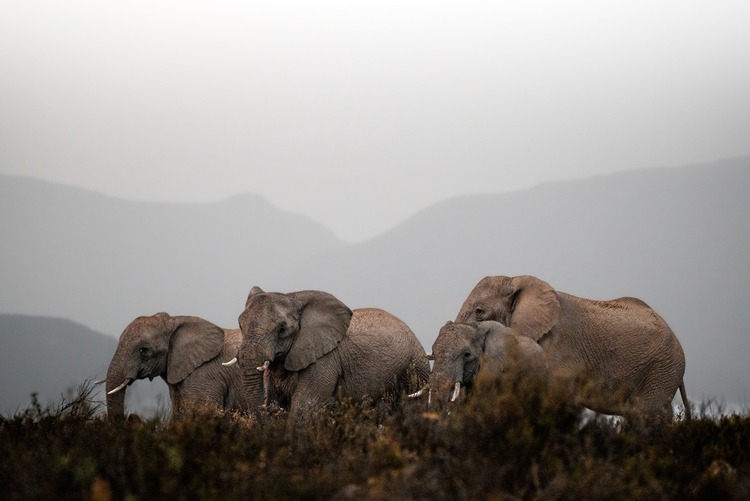 When travellers think of the Western Cape, visions of holidays filled with coastal explorations, mountain retreats and wildflower-rich countrysides start to take shape. What many don't know however, is that the Western Cape is also host to a selection of immersive safari experiences located on private reserves across the province. Although there aren't many, the small selection of authentic safari experiences on offer within the Cape promises a truly special experience, allowing travellers to combine their magical beach vacation with a spot of game viewing.
Western Cape Game Reserve Accommodation
Sanbona Wildlife Reserve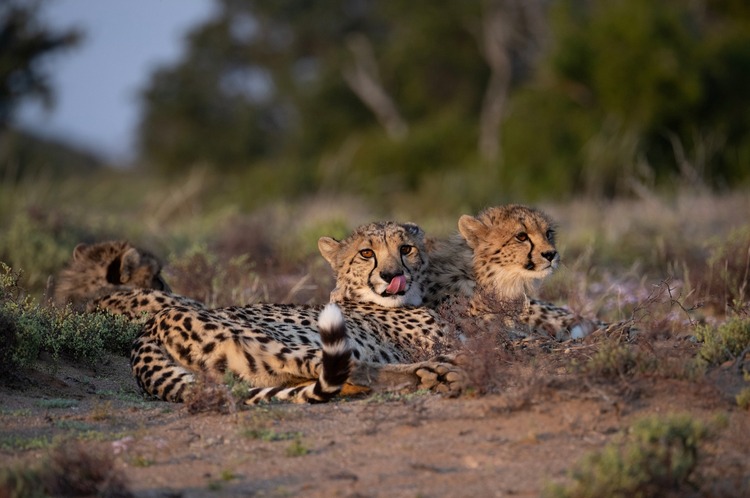 Sanbona Wildlife Reserve is one of South Africa's largest privately owned nature reserves, spanning a magnificent 58,000 hectares that encompass two biodiversity hotspots. This vast expanse in the Little Karoo, just outside Montagu in the Western Cape, awaits a mere 3.5 hours drive from Cape Town along Route 62, and promises an authentic and diverse natural space, where a harmonious balance is nurtured, allowing crucial ecosystems, endangered wildlife (such as white lions), and unique flora to thrive for generations to come. It's here where three gorgeous lodges, all suited to different tastes and occasions, await those with a passion for nature and conservation.
Gondwana Family Lodge at Sanbona Wildlife Reserve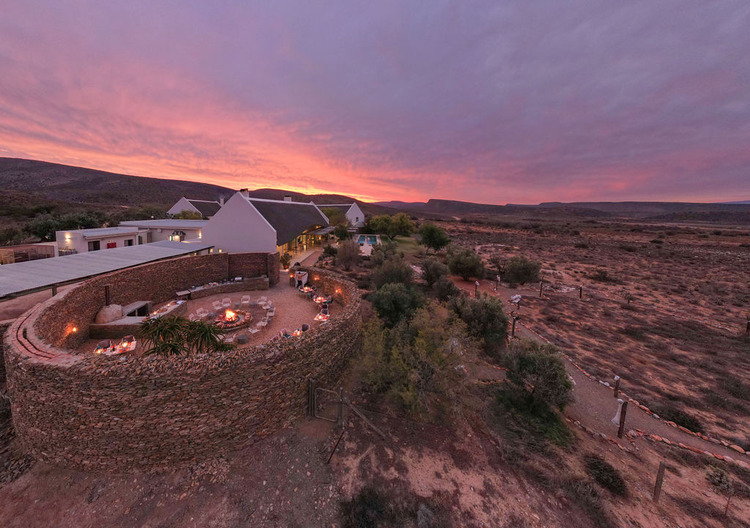 Gondwana Family Lodge at Sanbona Wildlife Reserve caters to guests of all ages and offers awe-inspiring views of the majestic Anysberg Mountains and the Bellair Dam. Enveloped in the charm of thatched roofs and contemporary comfort, the lodge provides both an authentic bush experience and modern conveniences. With interconnecting rooms, indoor and outdoor play areas, and a child-friendly pool, Gondwana Family Lodge is perfect for kids, and offers a range of educational and recreational wildlife experiences, accommodating individual preferences. Additionally, for ultimate pampering, a Relaxation Retreat with a variety of therapies and treatments is available.
Tilney Manor at Sanbona Wildlife Reserve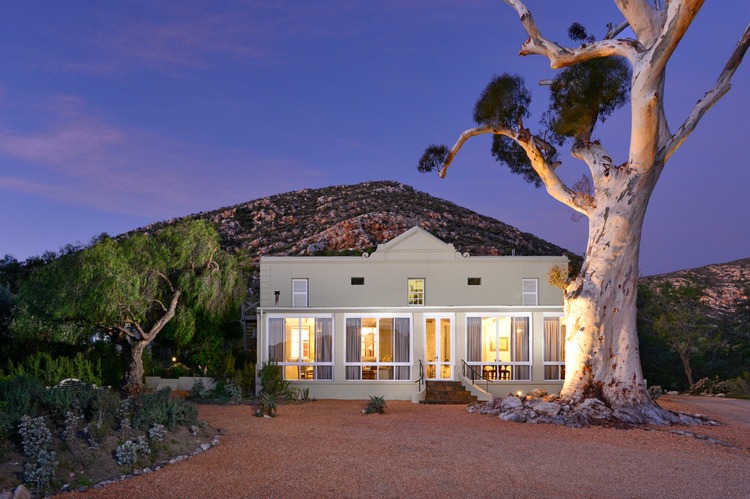 Located within the serene and historical Sanbona Wildlife Reserve in South Africa's Western Cape, Tilney Manor offers breathtaking vistas of rolling mountains and landscapes, providing couples with a tranquil and idyllic retreat. Situated approximately 3 to 3.5 hours away from Cape Town, Tilney Manor boasts six inviting open-plan suites that lead to private verandas. Guests are treated to an authentic experience of the Karoo with delectable cuisine, luxurious lounges, and a stunning rim flow pool. There's also a Relaxation Retreat that features a steam room and sauna, allowing guests to unwind while witnessing the awe-inspiring spectacle of a Karoo sunset, as well as a range of activities to make the most of your stay, including thrilling game drives and guided nature walks.
Dwyka Tented Lodge at Sanbona Wildlife Reserve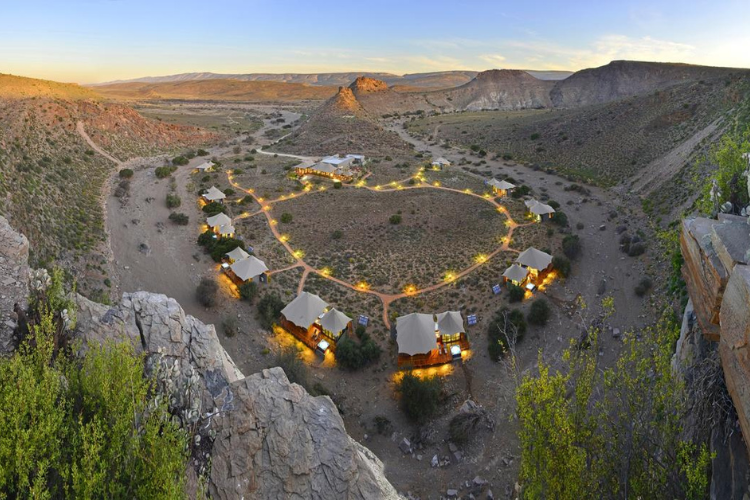 Dwyka Tented Lodge at Sanbona Wildlife Reserve offers a beautiful and romantic glamping safari experience for couples. Located in the private horseshoe bend of a dry Karoo ravine, surrounded by impressive rock formations, it offers the perfect setting for an unforgettable stay in nature with a side of luxury. The roomy lounge and dining areas boast modern, sophisticated interiors, wooden decks that make the most of the spectacular setting and a boma for dining under the stars. The accommodation is cosy and private, with only nine luxury tents spaced generously apart. Each unit has an en-suite bathroom and a private deck with a heated plunge pool, and guests will also experience the beauty of the wildlife in Sanbona Wildlife Reserve by going on game drives, guided nature walks and enjoying many other immersive activities.
Botlierskop Private Game Reserve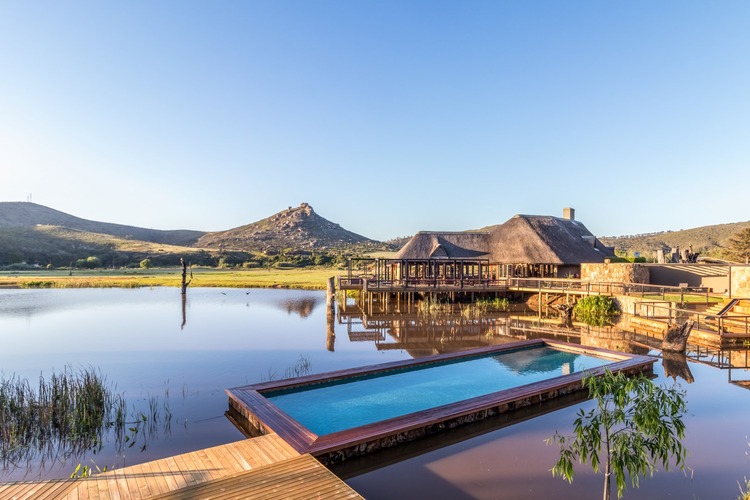 Located along South Africa's stunning Garden Route region, conveniently positioned halfway between Mossel Bay and George in the Western Cape province, Botlierskop Private Game Reserve is a 4,200-hectare private piece of land that offers breathtaking views of the glistening Indian Ocean and wonderful safari activities. What's more, it's a mere 4.5-hour drive from Cape Town. Explore the diverse wildlife that calls Botlierskop Private Game Reserve home, including four of the Big 5 (lion, elephant, buffalo, and rhino), cheetahs, and an array of antelope species. From rare black impala to zebra, giraffe, wildebeest, and hippopotamus, the reserve is teeming with fascinating wildlife encounters.
Botlierskop Tented Lodge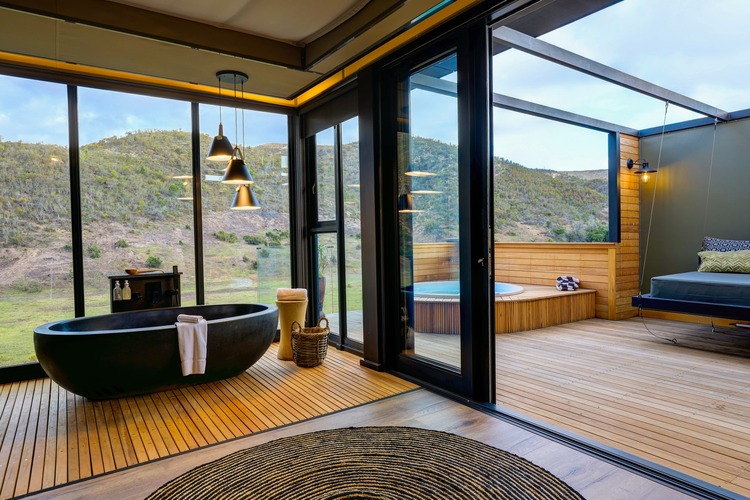 Botlierskop Tented Lodge is part of the famed Botlierskop Private Game Reserve, tucked away against the picturesque Outeniqua Mountains along the Garden Route. Botlierskop offers an authentic South African Safari experience in an extraordinary, family-owned, privately operated and malaria-free game reserve, ensuring a safe and secure stay. Botlierskop Tented Lodge provides an intimate and exclusive atmosphere, allowing guests to truly connect with nature and witness free-roaming wildlife, including various antelope species and a rich diversity of birdlife, from the comfort of your lodgings. The lodge prides itself on exceptional service and hospitality, ensuring that every guest's needs are met. Delicious meals featuring local flavours are served in the dining area, and there are various communal spaces where you can unwind and share stories of your safari adventures.
Botlierskop Village Lodge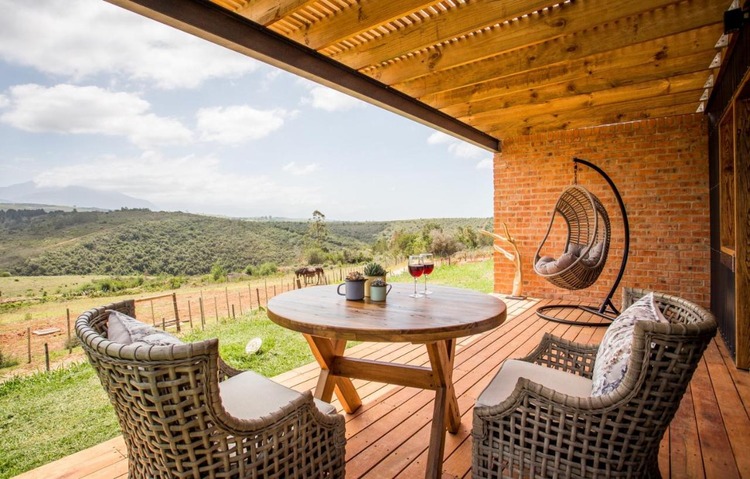 Botlierskop Village Lodge welcomes guests with its charming blend of contemporary and vintage houses dating back to 1800, all of which have been lovingly restored to their original beauty, offering spacious en-suite lodgings. With a total of 16 unique units, each showcasing a comfortable interior, the lodge seamlessly combines history and modernity. From exhilarating game drives and horseback safaris to indulgent spa therapies, diverse dining options, and engaging children's activities, there is something for everyone to create lifelong memories. The property also features expansive herb and vegetable gardens arranged in a wagon-wheel pattern, centred around the focal dams known as Watermollen (Watermill) and Perdedam (Horse Dam), all watered by a beautiful canal that weaves through the accommodations providing a sense of tranquillity.
Melozhori Private Game Reserve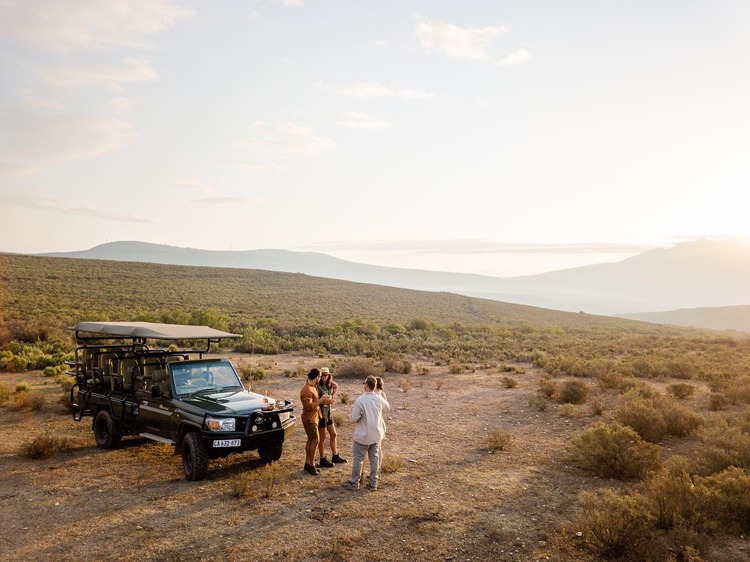 Melozhori Private Game Reserve is located in the scenic Cape Fold Mountains, next to the small hamlet of Stormsvlei, in the green Overberg district of the Western Cape. A beautiful setting that's conveniently less than a 2 hour's drive from Cape Town. It's here that guests can enjoy 2,300 hectares of undulating hills and mountains with clear beautiful views of the reserve and surrounding areas. Starting as overgrazed farmlands in 2008, Melozhori Private Game Reserve was rebought and has since expanded to 2,300 hectares of succulent Karoo, Renosterveld and sections of Fynbos in the mountainous areas. Home to over 38 species of game, 131 species of birds and an abundance of unique fauna and flora, Melozhori is the ideal place to pause on your journey through the Garden Route which is one of South Africa's prime tourist destinations.
Melozhori Private Game Reserve Accommodation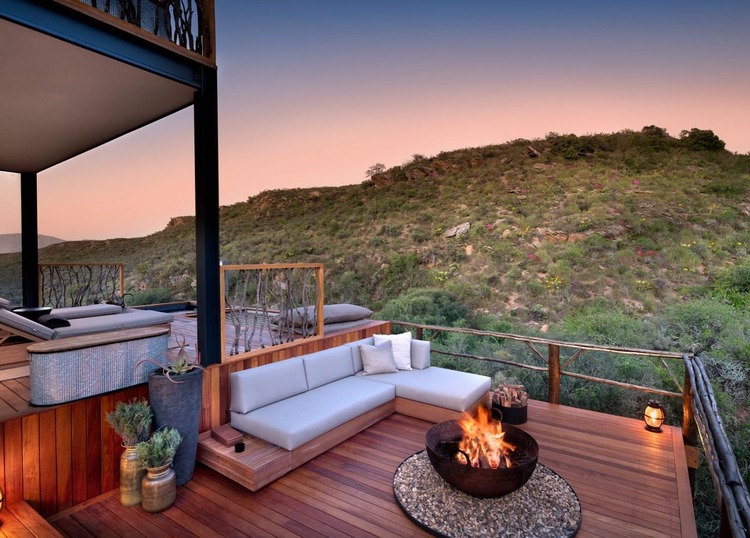 The reserve has 5 spaciously positioned accommodations for up to 22 guests – this includes an exclusive-use safari lodge, two romantic eco-pods, a pet-friendly cottage and a newly added luxury treehouse opening in September. Enjoy a vast array of activities suitable for all interests, including guided game drives, hikes and walks, mountain bike trails through hilly terrain or sundowner picnics in the veld. There are no predators to worry about, only a free-roaming selection of buck and zebra. At Melozhori Private Game Reserve, guests will enjoy a feeling of seclusion and absorption into pure wilderness.
Plettenberg Bay Game Reserve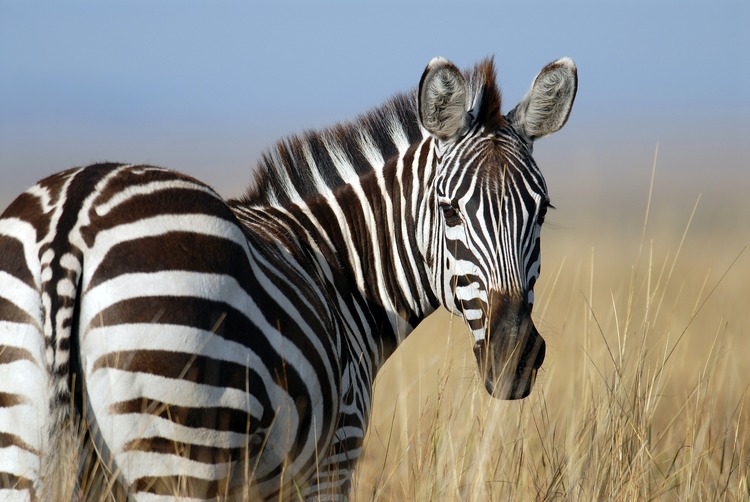 Plettenberg Bay Game Reserve along the Garden Route is one of a very small number of safari camps on the Southern Cape coastline where visitors will find three of the Big 5 wildlife in their natural habitat. The 2000-hectare indigenous bushveld is home to spectacular vistas and free-roaming wildlife such as buffalo, antelope, rhino, giraffes, elephants, hippos, and zebra.
Belle Balance Bush Hideout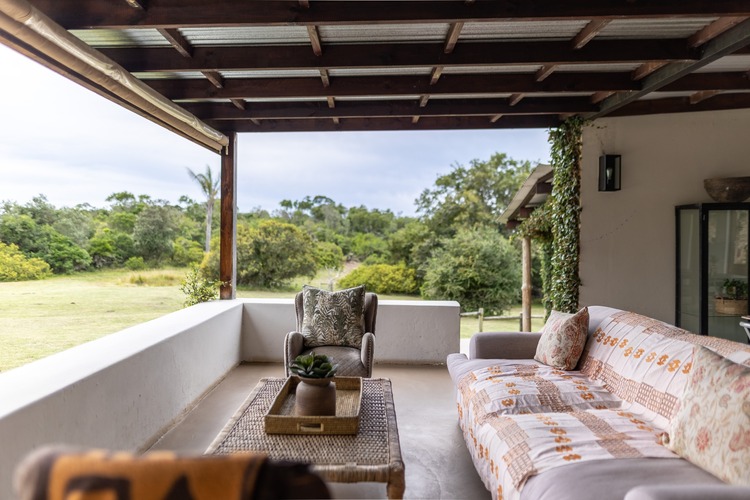 Belle Balance Bush Hideout is a tranquil and exclusive safari lodge hidden away inside the Plettenberg Bay Game Reserve, offering guests comfortable accommodations, exceptional hospitality and breathtaking views of the untamed wilderness just minutes away from the beautiful sea and stunning beaches. The lodge features just 10 individually decorated rooms, each offering a clawfoot bath, romantic four-poster beds, historic wooden floors, and cosy fireplaces to create a warm and inviting ambience. Each room offers striking views of the mountains, dam, watering hole, and surrounding game reserve. One of the highlights of Belle Balance Bush Hideout is the plunge pool and comfortable seating on the verandah, creating an environment where guests can relax and unwind. Inside, the welcoming lounge and dining room feature beautiful farmhouse-style decor and multiple fireplaces.
Gondwana Game Reserve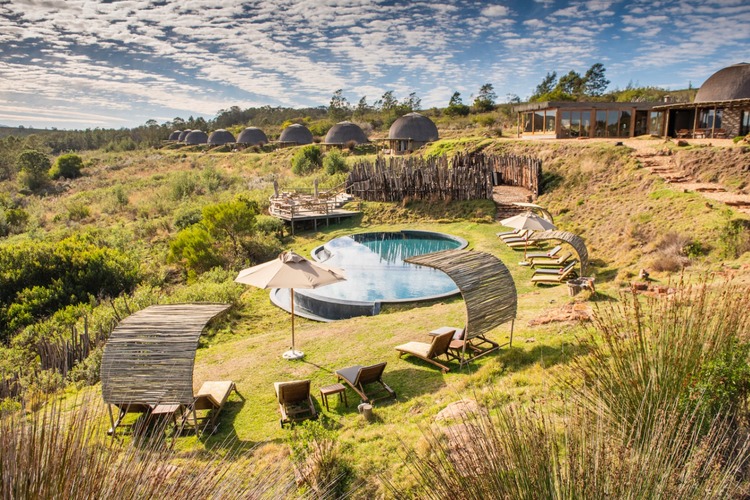 Gondwana Game Reserve is a luxury private game reserve host to the free-roaming Big Five and scenic lodgings located along the beautiful Garden Route. The 11,000-hectare game reserve is malaria-free and only a four-and-a-half drive from the city of Cape Town, making it a wonderful choice for those seeking a convenient, yet authentic, safari experience.
Gondwana Game Reserve Accommodation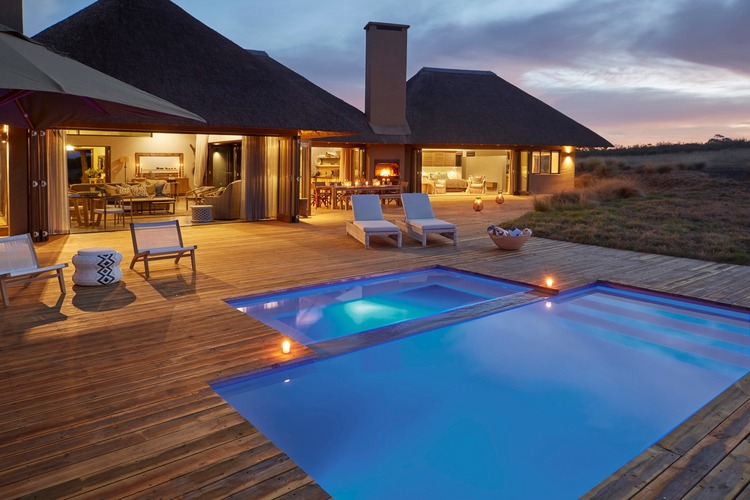 Considered a classic South African game reserve, Gondwana Game Reserve offers a diverse selection of safari lodge accommodations including romantic suites and private villas – perfect for families or couples. This, in conjunction, with an array of activities – from game drives, walking and mountain biking to conservation activities – makes for the perfect bush getaway. While there, guests are invited to enjoy a unique safari destination home to abundant herds of wildlife that can be seen on the majestic landscape, as well as awe-inspiring views of the Langeberg and Outeniqua Mountains in every direction. Indigenous fynbos valleys add a little something extra to the game viewing and wilderness experience.
Experience the magic of an intimate, unforgettable Western Cape safari and book your game reserve adventure with Conservio today!